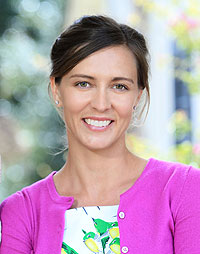 Vanessa Diffenbaugh
Author & Co-Founder | The Camellia Network
Board Secretary
Vanessa Diffenbaugh was born in San Francisco and raised in Chico, California. After graduating from Stanford University, she worked in the non-profit sector, teaching art and technology to youth in low-income communities. Her debut novel, The Language of Flowers, was on The New York Times best sellers list for 69 weeks and has been translated into more than 40 languages. It was long-listed for The International IMPAC DUBLIN Literary Award, which aims to promote excellence in world literature.
Following the success of her novel, Vanessa co-founded Camellia Network, a non-profit whose mission is to connect every youth aging out of foster care to the critical resources, opportunities, and support they need to thrive in adulthood. In The Language of Flowers, Camellia [kuh-meelyuh] means "My Destiny is in Your Hands." The network's name emphasizes the belief in the interconnectedness of humanity; a reminder that the destiny of our nation lies in the hands of our youngest citizens.
Vanessa and her husband PK have four children: Donovan, Tre'von, Graciela, and Miles. Tre'von, a former foster youth, currently attends New York University on a Gates Millennium Scholarship. Donovan, who came into their life when he aged out of the foster care system at eighteen, is a weightlifter and lives at the Olympic Training Center in Colorado Springs. In addition to her writing and non-profit work, Vanessa is a member of the Random House Speakers Bureau and has been invited by universities, literary festivals, state departments, and non-profit organizations around the country to speak about her experiences and the themes of her novel.
Additionally, she has been a guest lecturer at both the Harvard Law School's Child Advocacy Program and the Harvard Kennedy School, and she was a headlining speaker at the twenty-second annual Beyond the Bench Conference, which focused on equal access to justice for children and families and honored the legacies of Clarence Earl Gideon and Martin Luther King Jr. Vanessa's eagerly anticipated second novel, We Never Asked for Wings will be published this summer. She currently lives in Monterey, CA.