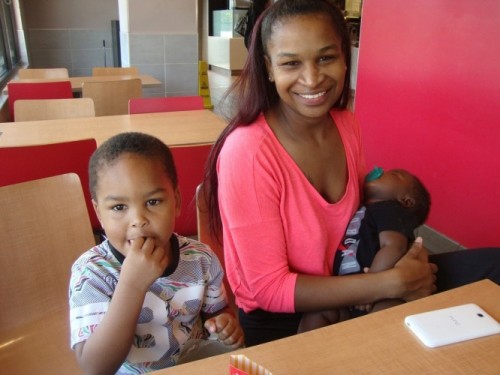 Intensive program helps former foster youth become successful adults
By Jane Schneider
Tarika is busy pondering her future. At age 21, the tall, soft-spoken young woman lives at her cousin's house in North Memphis, where she tends her two young children. She's only recently given birth to her second son and is eager to find a place of her own. To discuss the important decisions that lie ahead, she meets with Allie Coughlin, a specialist for the Youth Villages YVLifeSet program, at a neighborhood McDonald's. It's been Coughlin's job to help Tarika as she transitions from foster care into independent adulthood.
With her 3-month-old so cradled in her arm, and 3-year-old toddler quietly eating a Happy Meal beside her, she knows the future holds many challenges. Coughlin, a young professional just a few years older than Tarika, works with the young mother as she maps out her goals. Today they discuss her need to find an apartment and where to apply for a job. She also desperately wants to learn how to drive. Coughlin gently answers her questions and makes suggestions to help Tarika determine how she will achieve each step.
Our most vulnerable young adults
For many young adults, parents or grandparents provide the guidance necessary to help them find their way, but for former foster and other disconnected youth, the safety net of support is often ragged or absent altogether. That's why Youth Villages created the YVLifeSet program, now the largest program of its kind in the country. Its aim? To help this most vulnerable population transition into adulthood successfully.
Tarika is one of 1,200 young people who participate in the YVLifeSet program across the country on any given day. Since Youth Villages launched the program in 1999, more than 10,000 young adults have been assisted, largely in Tennessee, but also in Massachusetts, North Carolina, Mississippi, Oregon, Florida and Georgia, as the program has steadily expanded. Most everyone in social services now know that teens who age out of the foster care system between the ages of 17 and 22 often flounder. For nearly two decades, Youth Villages has been using research to build a program effective in helping them find long-term success.
"Young adults get disjointed services – or sometimes none at all," says Jessica Foster, executive director of strategic partnerships at Youth Villages. Some 23,000 young people age out of foster care every year in the United States. Some find resources and support on their own; others fall through the metaphorical cracks. Often, ending up homeless or in jail.Though anxious to be free from state oversight, the burden that comes with assuming the responsibilities of living independently — paying rent, carrying a car note, juggling a job and, in some cases, caring for children — is often too much to manage alone.
"The biggest struggle these young adults have is building a strong support system," says YVLifeSet Regional Supervisor Avery Duncan. "They need to reconnect with family, teachers, a coach or other adults they can count on." But for many, adults they can count on are few and far between, which is why the YVLifeSet program is so vital.
<div class="get-involved-cta"><!-- [et_pb_line_break_holder] --> <div class="left"><!-- [et_pb_line_break_holder] --> <h2><img src="https://youthvillages.org/wp-content/uploads/2018/08/give.png" style="height: 45px"><span>Get Involved</span></h2><!-- [et_pb_line_break_holder] --> <p>Give your time, talents, and love for youth in various ways such as volunteering at a YV event, mentoring a young person, or even running a race</p><!-- [et_pb_line_break_holder] --> </div><!-- [et_pb_line_break_holder] --> <div class="right"><!-- [et_pb_line_break_holder] --> <a href="" class="btn-cause">Find Your Cause</a><!-- [et_pb_line_break_holder] --> </div><!-- [et_pb_line_break_holder] --></div>