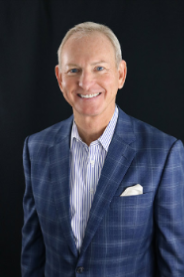 Johnny Pitts
Chief Manager | Libscomb & Pitts Insurance Co.
Johnny and his partner, Mat Lipscomb, III, are the majority owners of the largest, locally owned insurance agency in the Mid-South, Lipscomb & Pitts Insurance, LLC. Johnny is also founder of the Lipscomb & Pitts Breakfast Club, which works with local, regional and national government, non-profits, educational institutes, businesses and faith-based organizations to help create positive change for the Mid-South.
Born and raised in Memphis, Tennessee, he attained the rank of Eagle Scout in 1973, graduated high school from Memphis University School in 1976, graduated with a Bachelor of Science degree in 1980 with an insurance major from the University of Tennessee. From 1980 to 1981, he was employed with Safeco Insurance Company and CIGNA Insurance Company with training in the underwriting, loss control and claims departments. From 1981 to 1988, he was in production and retention of business insurance clients for Lipscomb & Pitts Insurance. In 1989, Johnny made partner at Lipscomb & Pitts Insurance with management of the financial and administrative areas while still producing and retaining business insurance.
In 1992, Johnny and his partner, Mat Lipscomb III, purchased Lipscomb & Pitts Insurance. Johnny has a CIC designation and serves on the boards of Innovate Memphis, Boy Scouts, and Insurors of Tennessee Large Agency Committee. He is also past Chairman of the Council of Insurance Agents & Brokers. Recently, Johnny served as Chairman of Youth Villages, ScoutMaster of Troop 55, Chairman of the Greenwich Group, Chairman of the Insurors of Memphis, Chairman of the Memphis/Shelby County Insurance Advisory Committee, Chairman of the Greater Memphis Insurance Council, board member of the Business Emergency Preparedness Council, board member of the Brooks Museum and board member of Assurex Global. A member of the President's Club at the University of Tennessee. His hobbies include fishing, hunting, competitive running/triathlons and golf.
Johnny and his wife, Kim, have been married since 1984 and have 3 children. Kim is a sustainer in the Junior League of Memphis and is the immediate past President of the LeBonheur Club. Kim is the West TN appointed representative to Governor Haslam's TN Executive Residence Foundation Board. They both are active in the Memphis community and Carnival Memphis. Johnny also served as King of Carnival in 2004 and President in 2009. They are members of Independent Presbyterian Church.