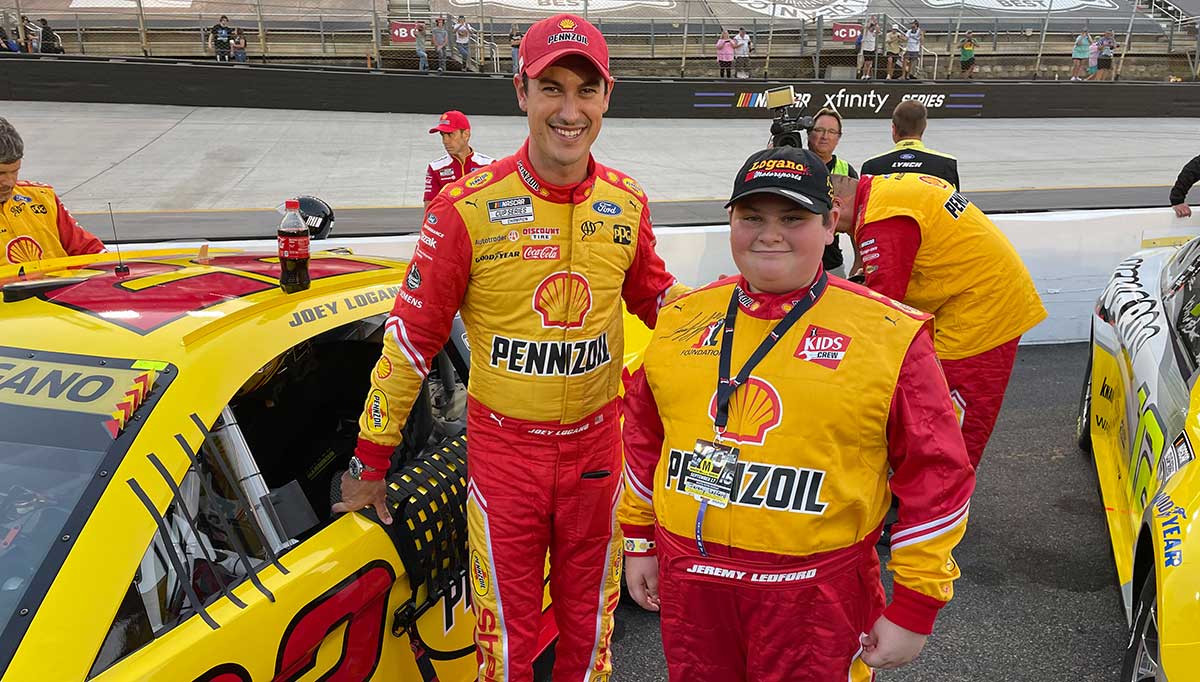 Meet Jeremy, the North Carolina youth selected as a Joey Logano Crew Member
In the small town of Nebo, North Carolina, a young boy with a dark past and a passion for mechanics and cars had a lifechanging NASCAR experience thanks to Youth Villages and the Joey Logano Foundation.
Jeremy, 12, has been a NASCAR fan and auto enthusiast for as long as he can remember. His grandfather, Sam, has had an uphill battle to provide a stable environment for his grandson. Those years of challenges, however, faded for a moment they'll never forget, as Jeremy became a JL Kids Crew member and received the NASCAR experience most racing fans never get to experience.
Jeremy's early life was full of neglect and abuse due to his parents' battle with addiction. Due to trauma, Jeremy spent time in-and-out of residential psychiatric facilities and therapeutic placements. Jeremy and his grandfather fought hard to overcome the behavioral health challenges associated with that trauma.
Now, Jeremy is living with Sam, but recently lost his grandmother at the beginning of the pandemic due to COVID-19. After this loss, Sam also suffered a serious stroke that left him partially blind and with physical challenges, leaving him unable to work. None of these hurdles stopped Sam from working to keep his grandson home.
After Jeremy started living with Sam full time, Youth Villages' Family Support Partners stepped in. Family Support Partners go into underserved populations, providing support to families and helping them navigate many different systems. In April of 2021, they met support partner Catherine, who has advocated and supported the two ever since.
It was then that Youth Villages learned of the passion Jeremy has for NASCAR and Joey Logano. Most impressively, Jeremy is extremely knowledgeable about NASCAR and its drivers. It became very befitting to advocate for Jeremy to be a part of his favorite driver's JL Kids Crew program when the opportunity presented itself.
Jeremy was selected by the Joey Logano Foundation to have a special experience at the Bass Pro Shop Night Race at Bristol Motor Speedway in September 2022. Catherine, along with the Joey Logano Foundation, stepped in and worked tirelessly with Jeremy and Sam to make this day happen by ensuring that they had no barriers and could attend this event without any worries. The Joey Logano Foundation hooked Jeremy up with special souvenirs, including a custom-fitted fire suit to wear on the day of the race.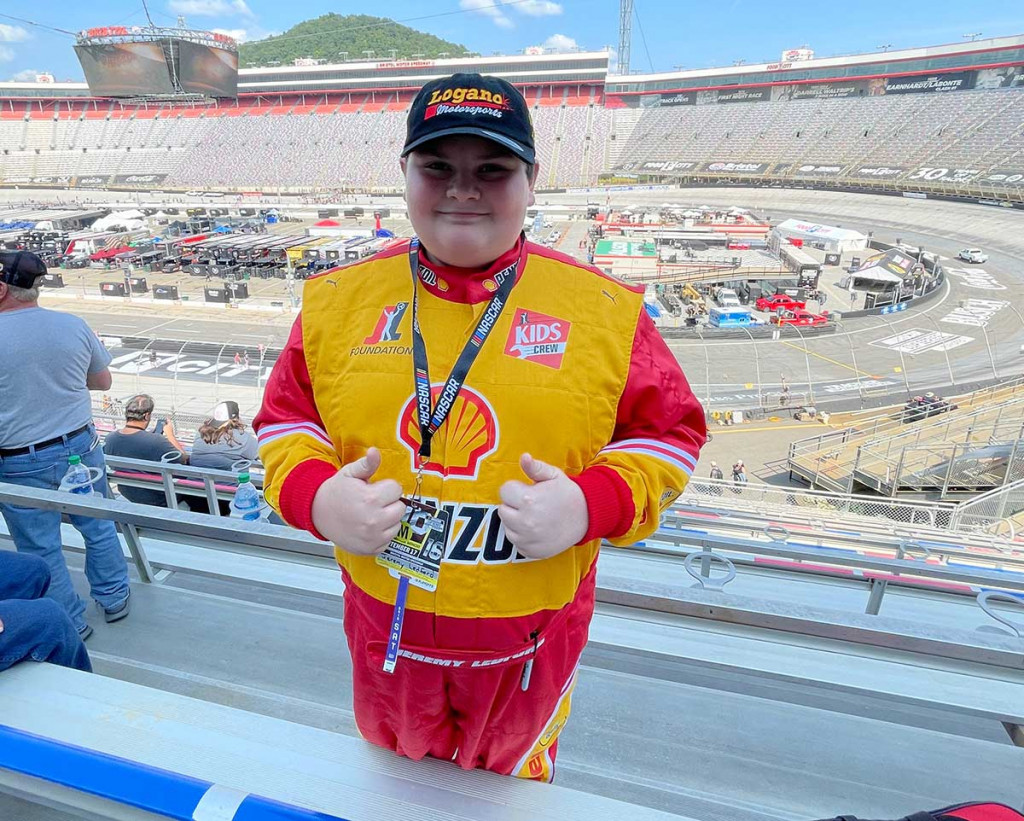 Jeremy and his grandfather showed up several hours early for the event because they were beyond excited for the special day. Jeremy said, "getting to meet Joey is what had me going."
Jeremy's day with Joey was jam-packed from start to finish, with exploring the Speedway, walking out on stage with Joey when he was announced for the race, meeting crew members, and watching the race from a suite.
"One of my favorite memories with Jeremy was going to the Driver's Meeting together, where he was able to meet almost all my competitors and then we both walked out together on the main stage for the Driver Introductions in front of 100,000 race fans," said Joey Logano, two-time NASCAR champion.
Jeremy had such a great, positive, contagious attitude, and I'm so glad he and his Grandfather Sam were able to come to Bristol.
Catherine says all these efforts were worth it for just one simple reward: "Just to see the smile on Jeremy's face was everything!"
Now, Jeremy says his dream to become a NASCAR mechanic is even stronger. Jeremy collects old Hot Wheels and paints them like his favorite race cars, but now No. 22 will always hold a special place in his heart.
"It's always enjoyable to spend time with new JL Kids Crew members and watch them soak in such a special day," said Michael Fawley, marketing manager of the Joey Logano Foundation. "The JL Kids Crew is a forever club and on behalf of the Joey Logano Foundation, it was an honor to welcome Jeremy into the group."
Thanks to the work of Youth Villages and the Joey Logano Foundation, these efforts and interactions gave one young man another shot at dreaming and finding direction – all while keeping the child's passion at the forefront.
Interested in supporting kids like Jeremy? Click here to support programs in North Carolina.