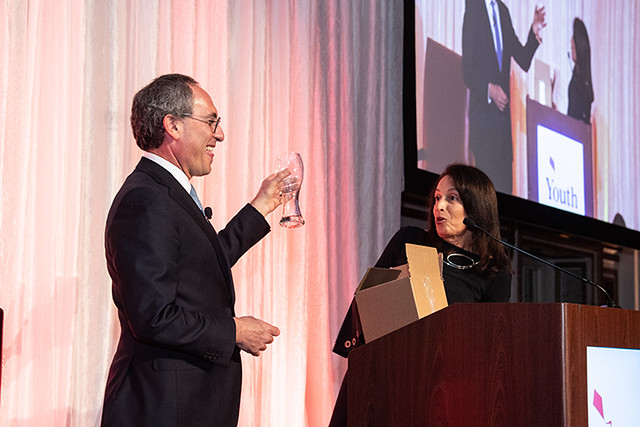 Kevin Tabb (left) receives a gift onstage during Youth Villages' Spring Celebration.
Youth Villages Massachusetts and New Hampshire honored Kevin Tabb, M.D., president and CEO of Beth Israel Lahey Health, at its annual Spring Celebration fundraiser held May 2 at the Fairmont Copley Plaza. Tabb has served as a member of the local Youth Villages Massachusetts and New Hampshire board since 2012.
Approximately 300 guests attended the event, which raised nearly $1 million to fund YVLifeSet™. The program provides intensive clinical support and guidance to young adults ages 17-22 who are "aging out" of state care, lack family involvement, or are either homeless or at risk of being homeless and need help learning to live successfully on their own.
"All of us in health care know how important supportive behavioral health services are to individuals and communities," Tabb said. "I'm honored to be part of the Youth Villages board and help champion all that this innovative organization does to help children and families achieve their full potential."
Caron Tabb introduced her husband in a speech that included videos of his father and children congratulating him.
"Kevin has played an important role in the expansion of Youth Villages' programs in Massachusetts and New Hampshire," said Matt Stone, executive director of Youth Villages Massachusetts and New Hampshire. "I am thrilled to have this opportunity to honor and thank him."
Additional attendees included U.S. Representative Joseph Kennedy; Governor Charlie Baker and First Lady Lauren Baker; Boston Mayor Martin J. Walsh; Marylou Sudders, secretary of the Executive Office of Health and Human Services; and Patrick Lawler, CEO and founder of Youth Villages.
The night also included speakers from Youth Villages' YVLifeSet and YVIntercept programs.