Youth Villages Announces Bill's Place
MEMPHIS, Tenn. (May 1, 2017) – Youth Villages announced Bill's Place, a $22 million investment to expand intensive residential treatment on the Bartlett, Tennessee, campus, at a ground breaking ceremony this morning. The 100,000 square-foot addition will create a 148,000 square-foot center designed to enhance treatment options for the community's most at-risk and vulnerable youth, addressing a gap in services for medically fragile children and the growing community need for intensive treatment options.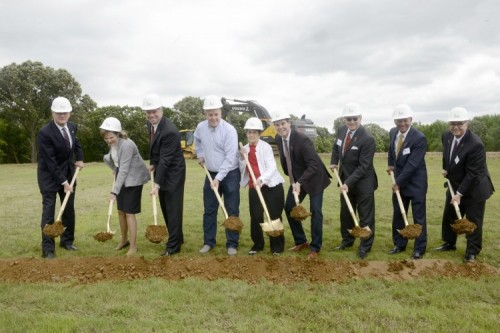 "With the addition of Bill's Place, we are poised to make an even greater impact in the lives of the children. We are committed to helping these youth by addressing the perpetual waiting list and glaring gaps in services for children with complex mental or behavioral problems who are also medically fragile," Youth Villages CEO Patrick Lawler said.
Bill's Place will add an additional 72 beds, bringing the bed total to 144 and allowing approximately 435 youth to be helped annually at the facility. The Bill's Place expansion, doubles the center's capacity to serve children and create an environment to accommodate children who have medical issues with co-occurring mental or behavioral health needs by providing an integrated and comprehensive approach to treating the whole child.Bill's Place is dedicated to William "Bill" and Marjorie Lawler, the parents of Pat Lawler. Bill Lawler was born during the Great Depression and lost his mother when he was just two years old. From age six to 11, Bill lived in an orphanage – an unpleasant place he despised – but because of his difficult childhood, Bill grew up to cherish the importance of family and instilled those values in his three children. The way Bill lived his life became the driving force behind Pat's commitment to ensuring that every child has a path to success and ultimately created the legacy that will now be Bill's Place.
Bill's Place will be a bright and welcoming space with natural lighting and interior finishes that provide a comfortable environment. A number of unique features will provide both a creative outlet and recreational therapy, such as a theater and musical performance room with space for the existing therapeutic drumming program, a dedicated art room, as well as a gym, outdoor pool, exercise room and outside playground. Bill's Place also will add 16 new classrooms and a modern computer lab, eight family counseling rooms, an expanded health station with additional nursing staff, on-site pediatricians, dentists and optometrists as well as physical and occupational therapy rooms, two sensory therapy rooms with leading-edge tactile equipment and a neurofeedback therapy room.
"Every aspect of Bill's Place was designed with the children's needs in mind – to ensure that we are providing them with the care they need in an environment that promotes progress, growth and success," Lawler said.
A hallmark of Bill's Place is the creation of a national laboratory for Collaborative Problem Solving (CPS) – a revolutionary, evidence-based treatment model for troubled youth. CPS is disseminated by Think: Kids at Massachusetts General Hospital, Harvard University Medical School's teaching hospital. Through the partnership with Think: Kids, what is learned at Youth Villages' national laboratory will be shared with key community partners locally, regionally and nationally. Youth Villages also will demonstrate, teach and circulate the CPS model to other providers and organizations.
Bill's Place is made possible by a local capital campaign and is projected to add approximately 150 new jobs to the campus when it opens in spring 2019.
"We are proud that Bill's Place will be one of only a few centers nationwide to offer those children and their families new possibilities to be successful," Lawler said. "This facility complements the array of services we currently offer and reaffirms the commitment we made when Youth Villages was created to provide intensive services for youth with the greatest needs."
About Youth Villages
Youth Villages is a private nonprofit organization that helps more than 22,000 of America's most vulnerable children and families each year in 13 states and Washington, D.C. It is one of the largest providers of children's behavioral services in Tennessee. Youth Villages has been recognized by Harvard Business School and U.S. News & World Report, and was identified by The White House as one of the nation's most promising results-oriented nonprofit organizations. For more information about Youth Villages, visit youthvillages.org.
###
<div class="get-involved-cta"><!-- [et_pb_line_break_holder] --> <div class="left"><!-- [et_pb_line_break_holder] --> <h2><img src="https://youthvillages.org/wp-content/uploads/2018/08/give.png" style="height: 45px"><span>Get Involved</span></h2><!-- [et_pb_line_break_holder] --> <p>Give your time, talents, and love for youth in various ways such as volunteering at a YV event, mentoring a young person, or even running a race</p><!-- [et_pb_line_break_holder] --> </div><!-- [et_pb_line_break_holder] --> <div class="right"><!-- [et_pb_line_break_holder] --> <a href="" class="btn-cause">Find Your Cause</a><!-- [et_pb_line_break_holder] --> </div><!-- [et_pb_line_break_holder] --></div>