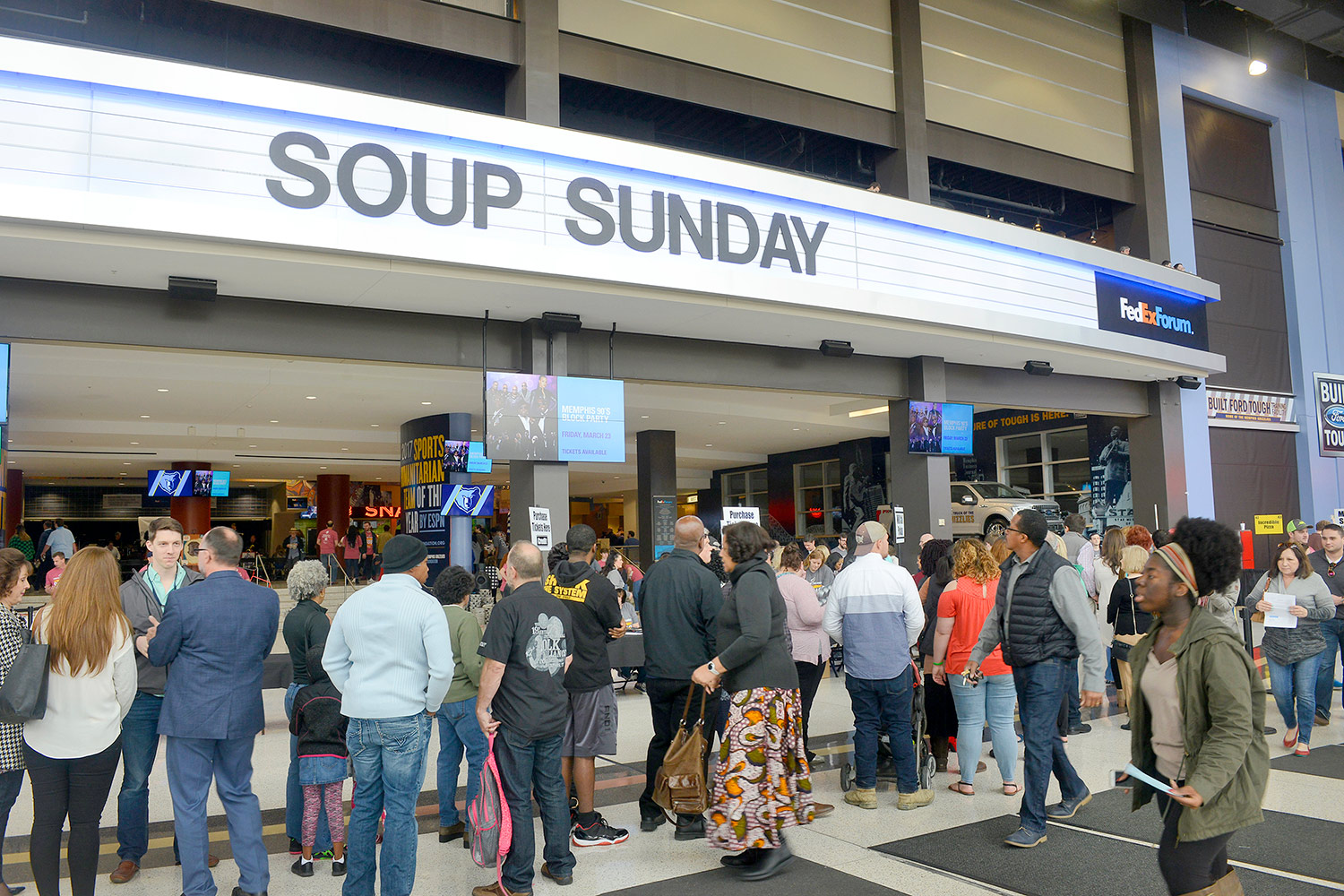 Thousands Attend 29th Annual Youth Villages Soup Sunday
The 29th Annual Youth Villages Soup Sunday returned to FedExForum Sunday, Feb. 25 and satisfied thousands of taste buds. All proceeds from this year's event, presented by Konica Minolta, benefited the Youth Villages Mentoring Program. Ron Olson and Karen Perrin, the newest co-hosts of the WRVR morning show, kicked off the event with the ringing of the kite-shaped dinner bell along with Youth Villages CEO Patrick Lawler.
Then, attendees were off with their soup holders as they dined on a wide assortment of mouthwatering soups, seafood gumbos, unique specialty items, fresh breads and delicious desserts from nearly 50 of the Memphis-area's best restaurants and caterers including Babalu Tapas and Tacos, Celtic Crossing Irish Pub & Restaurant, Hard Rock Café Memphis, Huey's Restaurant and Nothing Bundt Cakes.
Families gathered around the Kid Zone for the Magic Mr. Nick show, and children had a blast stacking Oreos and shooting hoops. Hundreds of attendees took their Soup Sunday experience to the next level at the VIP Souper Party, where they enjoyed specialty items and adult beverages from several of the Mid-South's finest restaurants including Bleu Restaurant & Lounge, Ciao Bella Italian Grill and Bar and Youth Villages' own Food With Class program, among others.
Be sure to join us for Soup Sunday in 2019. It's sure to be a party as we celebrate our 30th year of ladling up the Mid-South's best soups and food items! Attendees had a chance to vote on their favorite food items in various categories throughout the event.
This year's winners included:
Best Bread: Vanelli's Deli
Best Soup: Hog Wild Catering
Best Dessert: Nothing Bundt Cakes
Best Gumbo: Blue's City Café
Best Specialty: The Half Shell
Souper Spirit: The Pink Flamingo
VIP Specialty: Expodine
VIP Best Bread: Expodine
VIP Presentation: Expodine
VIP Soup: Ciao Bella
VIP Best Dessert: Nothing Bundt Cakes
VIP Best Overall: Expodine
VIP Secret Judges Silver Ladle Award: Expodine

Get Involved
Give your time, talents, and love for youth in various ways such as volunteering at a YV event, mentoring a young person, or even running a race
[.$?*|{}() 0="%91″ _i="1″ _address="1″ /][^; _i="2″ _address="2″ /][1 _i="3″ _address="3″ /]