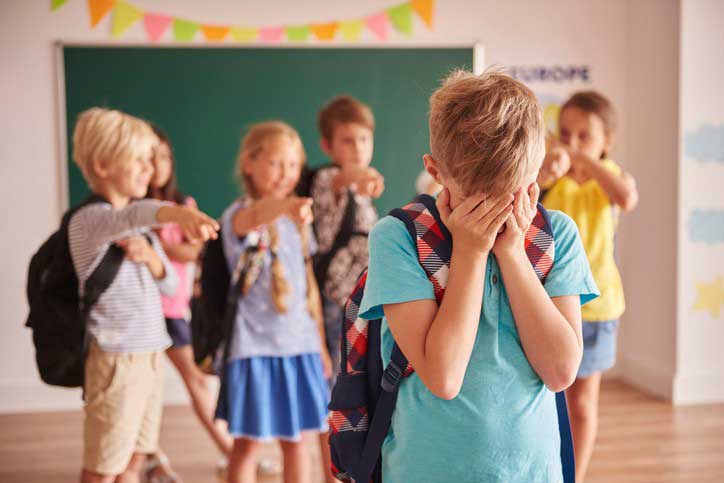 5 ways to help prevent bullying
By Stephanie Garrett
Youth Villages Clinical Services Program Manager
Is your child being bullied?
A staggering number of children are being bullied on a daily basis in person and through technology. According to federal statistics, approximately 20% of students aged 12-18 experience bullying nationwide. Those students reported their bullies were physically stronger and had more social influence, more money and the ability to influence other students' perception of them.
October is Bullying Prevention Month and has been recognized annually since 2010. It is important for parents and caregivers to be aware of the warning signs of bullying, create a prevention plan and know how to help stop bullying if it is happening.
If children are bullied, they tend to have one or more of the following risk factors:
Perceived as different from their peers
Perceived as weak or unable to defend themselves
Depressed, anxious or have low self-esteem
Have few friends and less popular than others
Seen as annoying or provoking or antagonize others for attention, not getting along well with others
When children are bullied, the signs are there for someone to step in and help:
Unexplainable injuries
Lost or destroyed clothing or other items
Frequent feeling sick or faking illness
Changes in eating habits, like suddenly skipping meals or binge eating
Difficulty sleeping or frequent nightmares
Declining grades, loss of interest in schoolwork or not wanting to go to school
Sudden loss of friends or avoidance of social situations
Feelings of helplessness or decreased self-esteem
Self-destructive behaviors such as running away from home, harming themselves or talking about suicide
Whether your children have risk factors for or exhibit signs of being bullied, there are ways to help them from being a victim:
Talk to your child. One of the best ways to defend against bullying is for caregivers to know that it's taking place. Prepare your children to defend against bullying in a safe manner. Create a plan with your child for when bullying happens to them.
Monitor your child's phone and social media usage. There are many cyberbullying tactics that you need to be aware of as a parent. Stay "in-the-know" on the latest apps and social media platforms. Have your child's user names and passwords for all digital usage. Create clear expectations with your child around their digital behavior, content and apps. Use parental controls to restrict content or view your child's online activities.
Get involved with your child's school. Know the school's policy on bullying and prevention efforts. Keep the lines of communication with the school open. If bullying is taking place at school, work with the school to create a plan to ensure that your child is safe and supervised.
Reassure your child that it isn't their fault. Validate your child's feelings by listening and using a warm and kind tone. Work towards creating a solution with your child to address the issue.
Manage your own reactions before taking action. Self-care and take a few deep breaths or do something relaxing. You may want to get support from family or friends to have an outlet for your reactions. It can be hard to not take this personally or, to make matters worse, retaliate against the bully. A calm presentation will help you be available for your child and help you to manage the situation well.
If your child is being bullied, there are resources that help. In Tennessee, you can contact Youth Villages Specialized Crisis Services (SCS) at 1-855-CRISIS-1 (274-7471) or text "TN" to 741741. You can also get help via the 988National Hotline.
You are not alone. If your child is experiencing bullying, there is help and there is hope.
Stephanie Garrett is a clinical services program manager for Youth Villages. Founded in 1986, Youth Villages is a national leader in children's mental and behavioral health committed to building strong families, delivering effective services, and significantly improving outcomes for children, families and young people involved in child welfare and juvenile justice systems across the country.