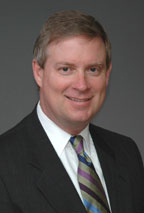 Greg Gregory
Chief Financial Officer
As chief financial officer at Youth Villages, Greg Gregory directs the organization's financial planning and accounting practices. He oversees capital improvements and expansions, buildings and facilities maintenance and all real estate purchases. In 2010, Gregory was honored as the nonprofit category winner in the Memphis Business Journal's inaugural "CFO of the Year" awards.
Since Gregory joined Youth Villages in 1991, the organization has grown from $6 million to more than $160 million in revenue. He established investment policies for Youth Villages, and he oversees the investment portfolios of the foundation and pension plans. As chief financial officer, he also analyzes the financial feasibility of opportunities for growth and new programs. He appraises the organization's financial position and issues periodic financial and operating reports and recommendations.
He directs the cash management functions of Youth Villages, including annual audits and new purchases. He also oversees the annual budgeting process.
Prior to joining Youth Villages, Gregory was vice president of finance for Econocom Maintenance Company, a subsidiary of Econocom, a regional computer sales, leasing and maintenance company. He managed the treasury functions, budgeting, annual audits, tax filings and direct accounting department of the organization. He was also a staff accountant for Jesse P. Matthews CPA firm in Jackson, Miss., where he focused on audit and tax work.