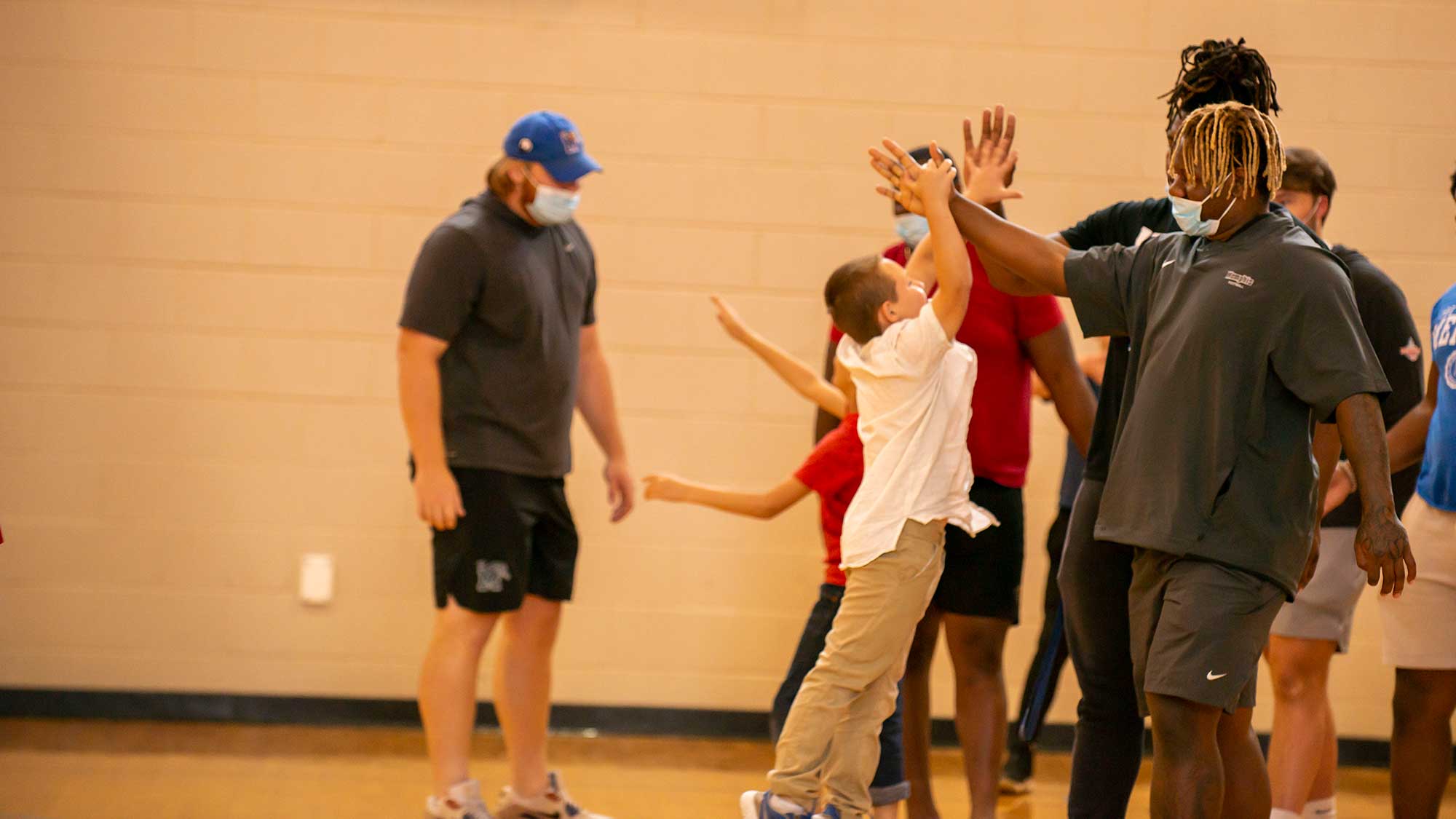 By Lamar Chance
Senior Public Relations Coordinator
Youth Villages, Memphis Athletics tweak partnership to keep it going during pandemic
Teamwork is at its best when all are in together to achieve a common goal.
That's what Youth Villages residential and University of Memphis Athletics have done in their recent partnership that continues to grow. What used to be fun "road" trips to the UofM campus to meet and play games with the Tigers has now turned into visits by the Memphis student-athletes to the Youth Villages residential campuses because of pandemic protocols.
"We used to be able to take our kids to see the Memphis Tigers," said Alaina McIntire, regional recreation therapy manager. "With the current circumstances, we were no longer able to do that.
"Since we couldn't go to them anymore, we proposed the idea: 'Can they come to us?' To foster the relationship, we hosted a Memphis Tigers tailgate. We brought in different Tigers equipment and decorations, and we threw a Tigers tailgate party on campus for the youth. It went so well that we invited the Tigers to come see us. It's been wonderful experiences since it started."
There were visits in the spring to the Dogwood campus, and just recently the Tigers—represented by the football, softball and volleyball teams—stopped by the Bartlett campus in early August.
"Our youth absolutely love it when any volunteers visit, but especially the Tigers because they are role models," McIntire said. "They are people our youth can identify with, whether they play sports or want to be college athletes. Our youth see them play games, but for them to get to interact with their role models is a unique opportunity that we're able to provide for them."
On the early August visits, the UofM football, softball and volleyball teams provided some skills instructions and played games with the youth. The Tigers also held panel discussions with the Youth Villages residents asking the student-athletes questions on a wide range of topics from how long practices are to balancing school and sports.
"Our youth get to ask the Tigers questions and learn a little about them," said McIntire. "They identify with the Tigers and realize that no matter what circumstances the are in, they can do whatever they want.
"The Tigers share with the youth the challenges they have overcome to get to where they are, and our youth can identify with some of those challenges. Our youth realize that their goals aren't as far-fetched as they may have seemed."
Not only do the youth get to meet and learn about their role models, but the Tigers also get something—if not more—in return from their visits.
"I kind of didn't know what to expect before I came," said Addyson Huber, a sophomore on the UofM volleyball team. "I kind of have an interest (career) in being a part of a facility program like this. It was super eye-opening to dive in and see what goes on here. My favorite part of the day was at the end when a little girl came up to me and said, 'I'm not normally happy, but with you guys here, it was amazing.' That made my day. I'll remember that for a long time."
Tigers football senior Morris Joseph said, "I enjoy every time I come here and visit. It's a good thing for us, too. Whenever we come multiple times, the kids remember your faces, and we start to build relationships with them. That's the most important thing."
The August visits are not the end of the Youth Villages-Memphis Athletics partnership. Plans are to keep it going, with events already lined up for September.
McIntire said, "The tentative plans now are for the Tigers to come on a recurring basis and visit us a couple of times each month."
And they'll be visits that the Tigers will continue to enjoy each time out.
"This is my second time coming here (visit in early August), and I enjoy it," UofM football junior Quindell Johnson said. "I love seeing the kids smile. I love seeing them happy, just being kids."