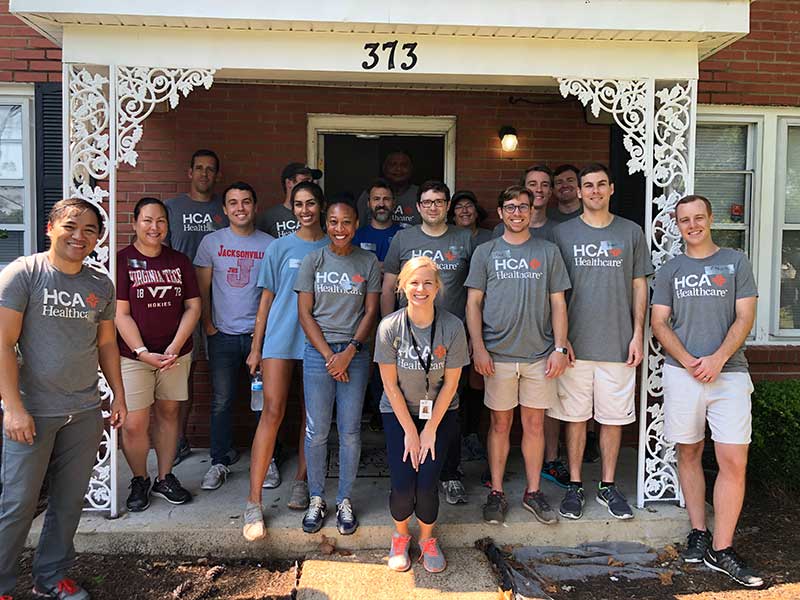 Corporate and Community Partners Provide Valuable Support to Middle Tennessee programs
From backpacks to gardens to fence repair to holiday gifts, Middle Tennessee's corporate and community supporters made valuable contributions of time and money to support children, families and young people in Youth Villages' local programs. Several exciting volunteer projects and our Backpack Heroes and Holiday Heroes were a great success thanks to these partners. Thank you to everyone for spending your valuable time volunteering with our young people.
HCA Healthcare Community Day at Binkley Group Home
We celebrated another HCA Community Day with a group of amazing HCA Healthcare volunteers at Binkley group home. The volunteers, led by Meredith Forehand (also on Youth Villages' advisory board), helped paint the interior of the group home.
HCA is one of our amazing community partners supporting Youth Villages through volunteerism and financial support. Specifically, HCA supports Youth Villages' adoption program, which is crucial in helping us recruit more families to open their homes for foster care and eventual adoption of youth in our care.
GEODIS volunteers at Youth Villages' garden
GEODIS, a global third-party logistics provider based out of Brentwood, volunteered at the River Run Farm in West Nashville at Youth Villages' designated garden for the Nashville group homes. Volunteers helped with maintenance of the garden, which provides produce for the youth at the Nashville group homes.
Dell brings Halloween fun to youth in group homes
Dell organized the annual Halloween party for the group homes filled with activities, games, costumes and Halloween treats. The group homes look forward to the party every year! Thank you Dell for being such a strong community partner.
Top Buttons brings shopping spree to Wallace Group Home
Top Buttons, a nonprofit educational organization focused on building self-worth for young women, treated the teen girls from Wallace group home to a fun shopping experience. The organization brought their mobile second-hand store to the Nashville office so the girls could shop together and pick out a new outfit – for free!
UBS offers personal finance lessons for LifeSet participants
UBS Financial Services hosted a peer-to-peer event for LifeSet program participants focused on personal finance, budgeting and preparing for the future. UBS volunteers worked individually with our young adults on creating personal finance goals and budgets. UBS even organized a real version of the Game of Life for the youth to help them prepare for the future.
The Marketing Arm upgrades fencing at Wallace Group Home
The Marketing Arm, a national promotion and marketing agency, donated and helped install a new fence at Wallace group home in Nashville. Volunteers removed an old fence before the new fence was professionally installed. They then stained and sealed the fence in October.
Dell brings new light to Youth Villages' Nashville office
Dell Nashville sent a group of volunteers to clean in the interior and exterior windows at the Nashville office. The volunteers did a great job beautifying Youth Villages' Nashville office.
Backpack Heroes supply more than 1,100 youth
Thank you to all of the Backpack Heroes who helped provide new backpacks and school supplies to 1,169 kids in Middle Tennessee and raised $13,500 for the campaign. 
A longtime partner, Crye-Leike Realtors, donated a record 369 backpacks. In addition, another longtime partner, TechnologyAdvice, donated and filled 150 backpacks for middle and high school-aged youth.
We also had great help assembling the backpacks from Banana Republic Factory Store, Hampton Inn & Suites, Jackson National Life, Thompson & Company, Tivity Health and VolCorp.
Thank you again to our amazing Backpack Heroes, and we hope to see you next year for the campaign kicking off in June 2020.
Thank you to our corporate sponsors and volunteers:
Aramark
Banana Republic Factory Store
Champs Sports
Change Healthcare
CPI Card Group
Crye-Leike Realtors
Cube Smart
Donelson-Hermitage Exchange Club
FlyteVu
FOX 17
Hampton Inn & Suites
Jackson National Life
Kuehe+Nagel
MTPS
NFIB
Optum
TechnologyAdvice
Tivity Health
Thompson & Company
Travelers
Unity of Nashville
Vanderbilt University Medical Center
VolCorp
Walmart
Holiday Cheers, Beers and Volunteers prepares thousands of gifts and stockings
Our annual Holiday Heroes wrapping party raised more than $7,200 and brought together nearly 150 volunteers to wrap gifts and assemble stockings for the young adults in foster care and our LifeSet program while enjoying food, beverages and holiday music. The Young Professionals for Youth Villages (YPs for YV) hosted the event on Dec. 12.