D'Kerio Shares Story of Struggle and Regaining Hope at Youth Villages Bartlett Campus Graduation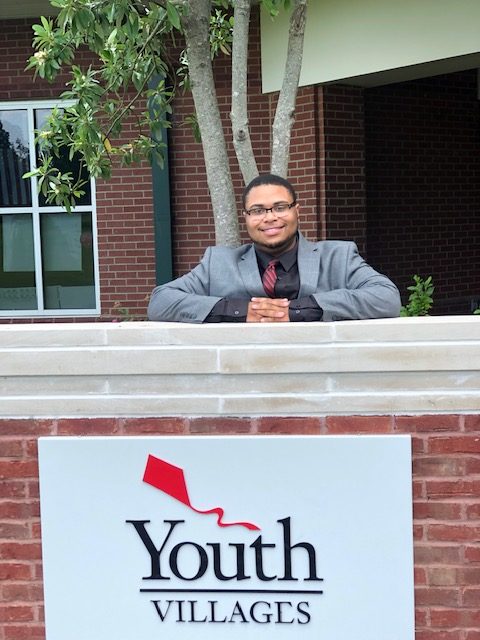 D'Kerio after his speech at Bartlett Campus' Graduation
When D'Kerio was 16 years old, he came to Youth Villages' Bartlett Campus for help after experiencing sexual abuse, abandonment and an unstable home environment.
When he was first admitted, D'Kerio was broken, angry, vulnerable and guarded. Surrounded by positive role models and supported by staff, he was able to overcome past struggles and become a bright, energetic young man who is full of hope for the future.
D'Kerio – now 26 years old – returned to The Bartlett Campus graduation ceremony as the keynote speaker. Using the quote "I will never lose, I will win or learn" by Nelson Mandela, D'Kerio empowered and encouraged the graduates to use their time at Youth Villages as a path to opportunity, possibility and success. His speech was met with a standing ovation.
Over the course of his time at Youth Villages, D'Kerio received tools and skills to heal and live a happier healthy life, find purpose and ultimately success. He never forgot the compassion and generosity he received at Youth Villages, which eventually inspired his career path. He currently works as a peer specialist assisting youth and adults with mental health issues. In a few short months, he will graduate with a bachelor's degree in social work.
During his speech, D'Kerio mentioned one staff member in particular who gave him inspiration.
"Ms. Shana left a lasting impression on me," D'Kerio said. "She made me really think about who I was, how to be happy with myself, and not care about what other people think. She told me to not allow the past hurt, pain and emotions to control my present and future. I took that and it stayed on my heart and mind."
Having gone full circle in his life, D'Kerio is now planning to help young people find their own path to hope and healing.