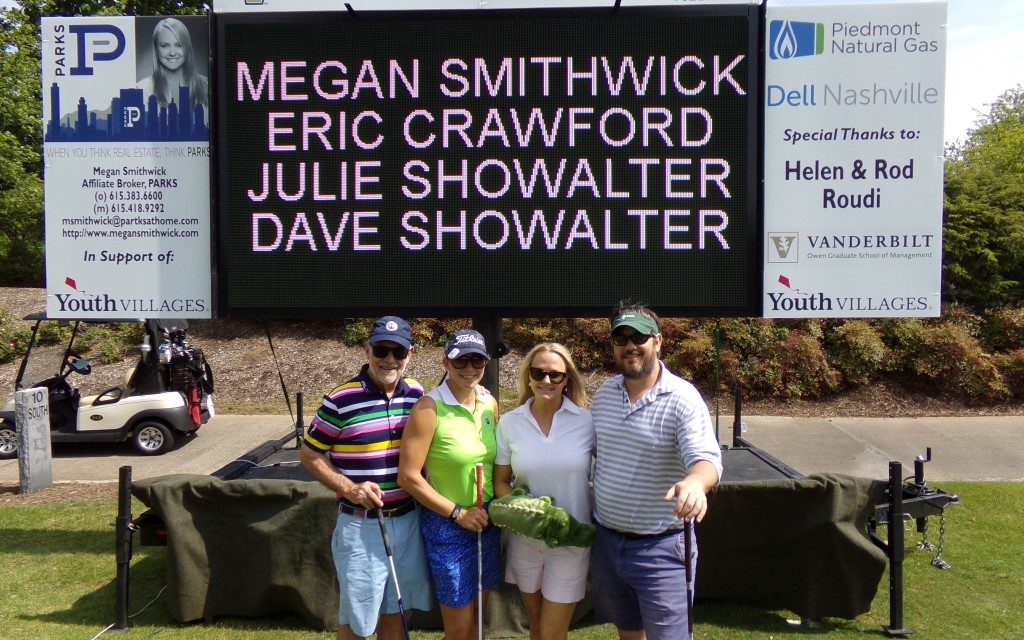 Event recap: 7th Annual Vanderbilt MBA Golf Classic
In May, Youth Villages Middle Tennessee hosted the seventh annual Vanderbilt MBA Golf Classic in partnership with the Owen Golf Club, an association of the Owen Graduate School of Management at Vanderbilt University, at the Vanderbilt Legends Club in Franklin, Tennessee.
We had our most successful year yet, raising more than $56,000 for the YVLifeSet program, which supports youth aging out of foster care make a successful transition into adulthood. We had perfect weather for this sold-out event engaging 32 corporate sponsored and MBA student teams to raise money and awareness for the YVLifeSet program.
The highlight of the event was hearing the stories of our YVLIfeSet participants, who shared their personal success with the YVLifeSet program and how it has impacted their lives. Brandy, one of our YVLifeSet participants, even learned how to hit a golf ball from the Long Drive professional.
A very special thank you to our title sponsor, Megan Smithwick from Parks Realty. Also, thank you to our Golf Sponsors: Dell Nashville, Piedmont Natural Gas, and Helen and Rod Roudi.
Check out the team and action photos from the event:
Save the date for next year's event on May 2, 2019!
Special thank you to:
Title Sponsor:
Megan Smithwick at Parks Realty
Gold Sponsor:
Dell Nashville
Piedmont Natural Gas
Helen & Rod Roudi
Black Sponsors:
Advanced Network Solutions
Alexander & Co., Inc.
Art by Meg
Asylas
Beecher Carlson
DataBlue
Dell
Dell BNA ERG Team
InStream
Jim 'N Nick's
Karen Jett
Kraft CPAs
LBMC Technology Solution
LifePoint Health
Marshall Family Foods
naviHealth
Optiv
Owen Graduate School of Management
RC Mathews
Silicon Ranch
Tennessee Soccer Club
Thomas & Company
Tobacco Road Smoke Shop
Triumph Bank
US Bank
Vision
Volunteer Credit Corporation
Whitehall Beneficiary
Youth Villages
Special Thank You To:
Jim 'N Nick's
Tobacco Road Smoke Shop
Oak Hall
Vineyard Vines
Ajax Turner
Coca Cola Bottling Co. Consolidated
Dunkin Donuts
Chick-fil-a at Thoroughbred Square
Hunt Brothers Pizza
Music City Golf
Dick's Sporting Goods in Cool Springs
Vanderbilt Legends Club

Silent Auction Contributors
21c Museum Hotel Nashville
Amerigo
Adventure Science Center
Arrington Vineyards
Blowout Co.
Bongo Java
Brothers Burgers
Chick-fil-a
City Winery
Clark Distillery
Corsair Distillery
Country Music Hall of Fame and Museum
Course at Sewanee
Fat Bottom Brewery
Five Oaks Golf and Country Club
Foxland Harbor Country Club
Gaylord Opryland Resort and Convention Center
Grand Ole Opry
Hillwood Country Club
Inner Light Yoga
Jackalope Brewing Company
Legends
Loew's Vanderbilt Hotel
Lyft
Martin's Bar-B-Que Joint
Meadow Brook Game Farm
Milk and Honey
Music City Cornhole Boards
Music City Golf
Nashville Golf and Athletic Club
Nashville Pedal Tavern
Nashville Predators
Nashville SC
Nashville Sounds
Nashville Symphony
Nashville Zoo
Nothing Bundt Cakes
Omni Hotel Nashville
Orangetheory Fitness
The Pancake Pantry
Richland Country Club
Sewanee Inn
SILO
Steps Fitness
Taco Mamacita
Tennessee Titans
The Boardroom Salon for Men
The Corner Pub
Thompson Nashville
Uncle Julio's
Uncle's Barbershop
Verticity Indoor Cycling Studio
Westhaven Golf Club
Hosted by:
Youth Villages
Owen Golf Club
[.$?*|{}() 0="%91″ _i="1″ _address="1″ /][^; _i="2″ _address="2″ /][1 _i="3″ _address="3″ /]