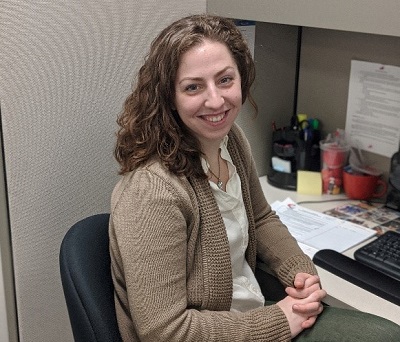 Fast-thinking Youth Villages specialist pulls together emergency resources
When a state of emergency was declared due to the COVID-19 pandemic, many people, understandably, freaked out.
Youth Villages Family Intervention Specialist Kendra Dzingle, LCSW wasn't one of those – she immediately thought of others.
Kendra began putting together a list of resources for her Youth Villages families. She knew that with schools and businesses closing, families would be under incredible stress, including how to feed their children now that they were not in school.
She also took it a step further, reaching out to her colleagues and allowing them to add more resources to the list. Because of her work, the office was able to create a living, editable document that can be accessed on the organization's intranet.
"It was really fast-acting, just putting it all together real quick," said Program Representative Christina Comeau, who Kendra reached out to for assistance.
Because of her position, Christina fields a lot of calls to help network and tackle issues. Even she was impressed with Kendra's quick reactions and compassion.
"She said, let's figure it out – they need resources," Christina said. "Families are now laid off, and let's think about how can we help them more."
Kendra's officemates can now easily locate resources their families may need in these difficult times.
They can also add to the list when they learn of something, allowing everyone an easy way to share information. This means families have access to more resources than they might otherwise access through a single specialist.
"That Monday, everything came to a head right away," Christina said. "I was just trying to figure it out, and she was like, 'Let's go. Let's do this.' It was amazing."