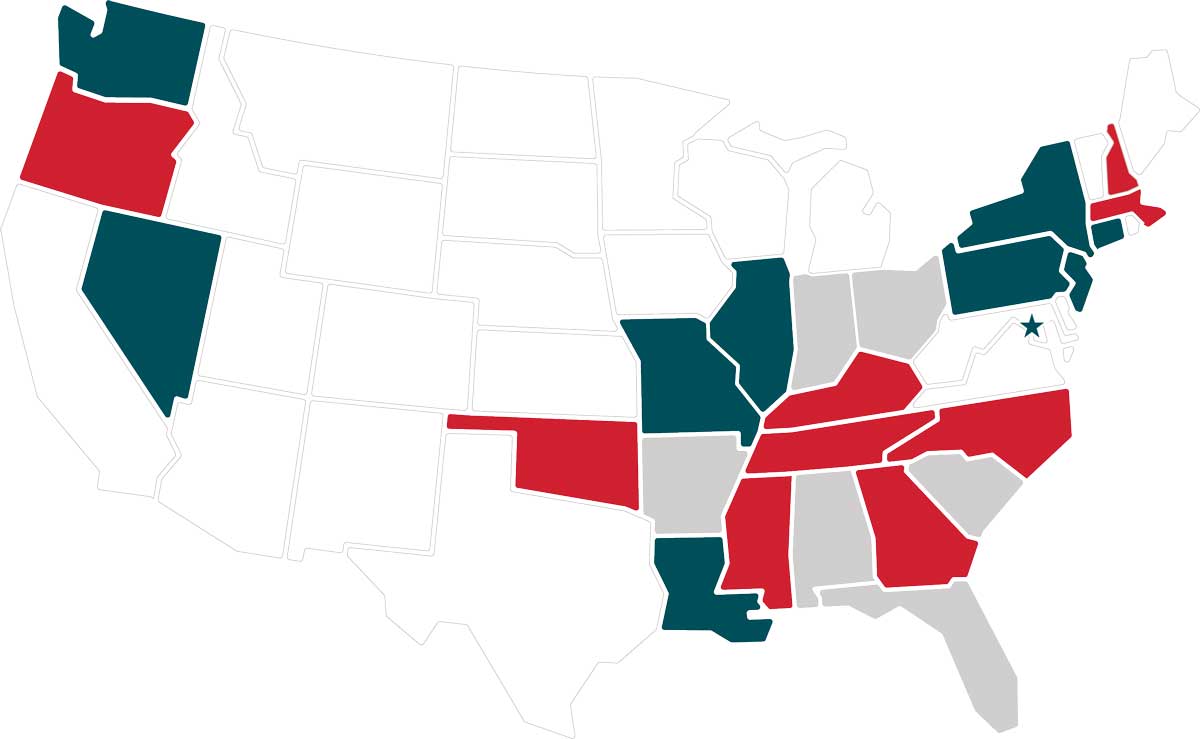 * Red — LifeSet provided by Youth Villages
* Blue — LifeSet provided by partner agencies
* Gray — Other Youth Villages programs
Four jurisdictions launch new programs for transition-age youth in foster care
MEMPHIS, Tenn. (Aug. 3, 2020) – New programs are launching in four jurisdictions across the country to provide comprehensive support to young people turning 18 in foster care – one of the groups hit hardest by the impact of the COVID-19 crisis.
Through public-private partnerships, national nonprofit organization Youth Villages is working with the Kentucky Department of Community-Based Services; New Hampshire Department of Children, Youth and Families; New Jersey Department of Children and Families; and Clark County Nevada Department of Family Services to launch the LifeSet™ program.
LifeSet, Youth Villages' evidence-informed program model, is a bridge from foster care to adulthood and will complement existing programs for transition-age youth in the jurisdictions.Launched in 1999 with the support of The Day Foundation, LifeSet is the largest program in the country helping this group and and the only intervention that has shown positive impacts across many areas of a young person's life in a large, randomized controlled trial. Last year, Youth Villages helped more than 4,300 young people through LifeSet and other transition-age youth services.
"We're building a network of support for young people, helping them achieve their goals and become successful adults in our communities," said Youth Villages CEO Patrick Lawler. "We're honored to work with the country's most innovative child welfare leaders and high-performing public and private agencies."
Approximately 20,000 young people reach 18 in state child welfare systems every year. They are resilient and capable, but statistics show that without help, they are more likely than their peers to be homeless, unemployed or incarcerated. Some face mental health issues and challenges with relationships, family planning and achieving stability.
In addition, many have been hit hard by the COVID-19 crisis. A recent survey of transition-age youth across the country conducted by FosterClub found that 65% had lost work during the pandemic, 51% had food insecurity and 23% had been forced to move or feared losing their housing.
Kentucky Gov. Andy Beshear said his administration wants to ensure that youth exiting foster care have a stable transition to adulthood.
"Part of a good child welfare network includes measures that will give older youth better outcomes," Gov. Beshear said. "Unfortunately, many will age out of foster care into adulthood without an adoptive family to guide them along the way. But with LifeSet, these young Kentuckians can get help with the skills and resources they need to live on their own."
The community-based LifeSet program puts young people in the driver's seat of their lives, with a specialist by their side to help navigate adult challenges. Specialists meet with young people at the location of the youth's choosing, face-to-face weekly, helping them set and achieve their goals. Specialists have access to online tools and resources and weekly support from a licensed program expert.
"It is more difficult today than ever for young people to transition into adulthood and be able to meet their needs for employment, housing, mental health, and sustaining healthy relationships; doubly so for young people aging out of the foster care system without reuniting with their families or being adopted," said Clark County Human Services Administrator Tim Burch. "The Youth Villages LifeSet model addresses these fundamental issues for young people and has demonstrated successes across the country. We are privileged to partner with Youth Villages to catapult our young adults into a successful life."
—
About Youth Villages
Youth Villages is a national leader in children's mental and behavioral health bringing help and hope to more than 30,000 children, families and young people across the United States this year. The organization offers a continuum of evidence- and research-based programs, including residential treatment, foster care, adoption, crisis services and its two national models: Intercept, which offers intensive in-home services, and LifeSetTM, which gives former foster youth a good start on successful adulthood. The organization has been recognized by the Harvard Business School and U.S. News & World Report, and was identified by The White House as one of the nation's most promising results-oriented nonprofit organizations. Learn more at www.youthvillages.org.