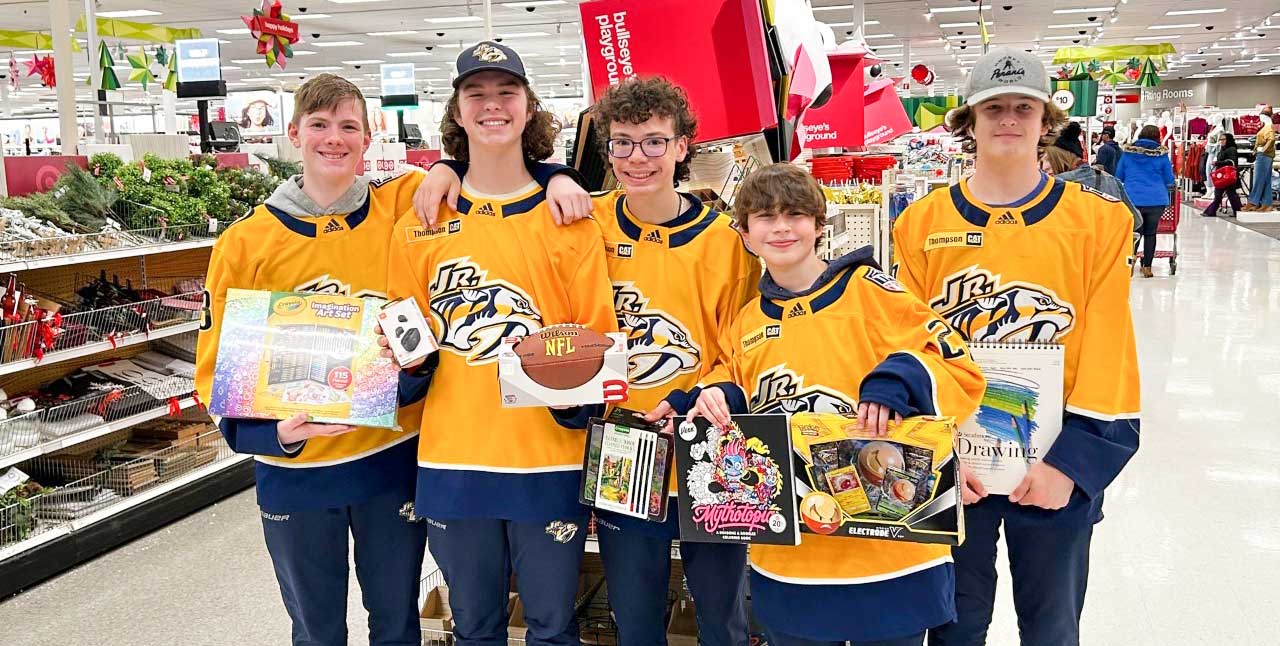 Holiday Heroes has another record-breaking year in Middle Tennessee
Corporate and community volunteers provide gifts to nearly 2,500 local kids
Holiday Heroes continues to smash records as the campaign engaged more than 400 community and corporate volunteers to sponsor and fulfill the wish lists of 2,450 children and young people this year during the holidays.
Holiday Heroes has been helping children in the Middle Tennessee community for more than 15 years by connecting corporate and community volunteers with the task to fulfill holiday wishes for local youth who would not receive any gifts for the holidays, otherwise.
"These gifts mean more to these kids and families than you can ever know," said Frankie Boyette, Supervisor, Clinical Services. "It reminds them that there are people in their community that care enough about them to give them gifts, which can give them hope, especially when they have endured so much pain and suffering."
The campaign raised an additional $269,000 to fund the wish lists for the last-minute kids who came into our care days before the holiday break and fund the holiday parties for our programs that included LifeSet, group homes, and foster care.
A special thank you to 615 Ventures for donating the space used for the Holiday Heroes workshop, and to all the volunteers who helped make Holiday Heroes a huge success!
It's a wrap! Volunteers wrap gifts for LifeSet
It's a wrap! Journeys and Jackson® teamed up with Youth Villages to wrap gifts for former foster youth as part of Holiday Heroes.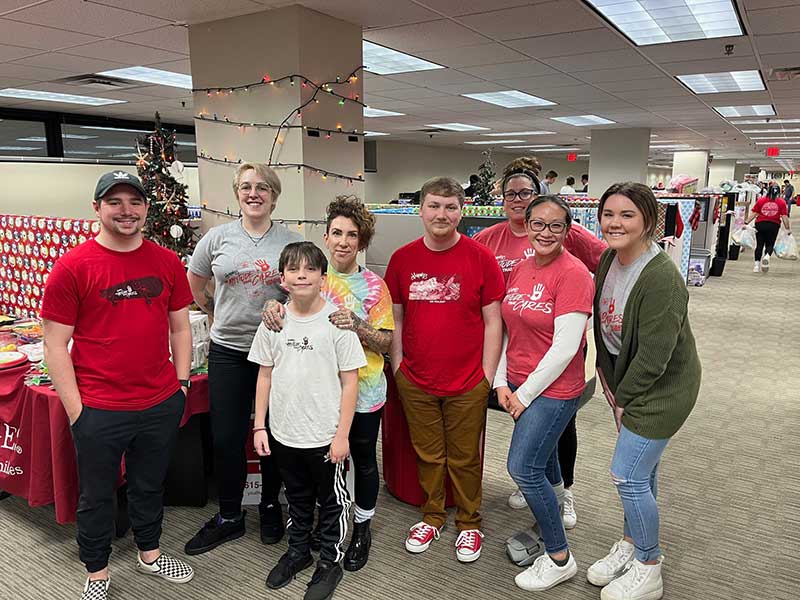 Journeys (part of Genesco) and Jackson® partnered to host the annual wrapping party called Holiday Cheers, Beers & Volunteers benefiting Youth Villages to wrap gifts for young people in the LifeSet program as part of the annual Holiday Heroes campaign.
Journeys is honored to sponsor another year of Youth Villages annual wrapping event that highlights its Lifeset program specifically during Holiday Heroes.
LifeSet provides transitional support to young people exiting the foster care system by helping them reach their housing, employment, education, and independent living goals. Holiday Heroes provides wish list gifts for local children, families, and young people during the holidays who would receive nothing otherwise. This year, Youth Villages will provide gifts to 2,500 youth in Middle Tennessee.
During the event, volunteers from Journeys, Jackson, and other local companies spent the evening wrapping gifts and assembling stockings for the young people in LifeSet ages 18-22 years old. Wrapping is critical to ensure these young people have something to open during their program's holiday celebration.
This marks the third year Journeys has sponsored the annual event and we are thrilled to have their support for this event and an upcoming bowling activity for the 30 teens living at the Nashville group homes.
"Journeys is honored to sponsor another year of Youth Villages annual wrapping event that highlights its Lifeset program specifically during Holiday Heroes. At Journeys, we are a family with an Attitude That Cares, and that extends to our local nonprofit partners, especially during the holidays! Our employees were thrilled to get to wrap up presents, spread some Journeys cheer, and send the wrapped presents on to such deserving homes. We are so thankful for such great partners like Youth Villages who are serving children in our community this holiday season," said Bailey Saunders, Community Outreach Manager, The Journeys Group.
Jackson is a longtime community partner of Youth Villages and in addition to sponsoring the annual wrapping event this year, Jackson sponsored and shopped for 60 of Youth Villages' children and families. Their giving does not stop there, as they also provide critical financial and volunteer support for our programs in Middle Tennessee year-round.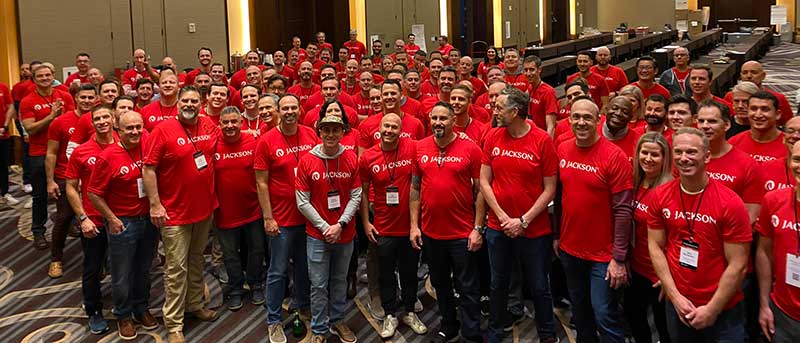 Thank you again to the 50+ volunteers who wrapped gifts for the young people in LifeSet.
For more information about supporting Youth Villages year-round, visit Youth Villages Online Giving.
Thank you to our Holiday Heroes and Holiday Cheers, Beers, and Volunteers sponsors:
615 Soul Line Dancers
Advance Financial*
AHEAD*
Anonymous
ARCO/Murray National Nashville, Inc.
Bibles and Beauty
Big Yellow Dog Music
Blue Sky Cottage
Brasfield & Gorrie, L.L.C.
Bridgestone Americas IT
Capital Resources, LLC
Cardinal Health
Carr Riggs & Ingram, LLC*
Caterpillar Financial Corporation & Benefits
Change Healthcare
Churchill Foundation*
Community DEI
CPI Card Group
DBH Distributing, LLC
Delek US
Dell EC
Florim*
Fridrich & Clark Realty, LLC*
Genesco*
GEODIS
GFP Fleet Culture Crew
Girl Scouts of Middle Tennessee
Greek Orthodox Philoptochos Society of the Holy Trinity*
Gutterglove
Hannah Constructors*
His Children Foundation
Informa Financial Intelligence
International Scholarship and Tuition Services, Inc. (ISTS)
Jackson*
JetRight Aerospace Holdings LLC
Junior League of Nashville*
Klein Solomon Mills
Laura Stasko*
M3 Technology
MHR (part of GEODIS)
Nashville Jr Predators Hockey
naviHealth*
NFIB
Optum
Project Play Therapy
R.C. Mathews Contractor
Reliance Heating & Air
Renasant Bank
Riffe family
Rogers Group*
Silicon Ranch
Southern Orthodontic Partners
Star Spangled Brewing Company
TechnologyAdvice*
Tennessee Soccer Club
Tennessee Titans
The Burbs (Evan Hamel)
The Caleb Cares Project
Thomas & Company
Ticket to Dream*
Tractor Supply
TrailRunner International
Trane Technologies
Transformation Title and Escrow
Trevecca Nazarene University Grad Counseling CSI Theta Nu Upsilon
Trinisys
Turner Construction Company
UBS
United Way of Maury County*
Unity of Nashville
Vanderbilt University Medical Center
Vision Software
VolCorp Credit Union
Wood Personnel Services
Zeal Church Small Group
(* reflect financial contributors)
View more photos of our Holiday Heroes volunteers and sponsors.