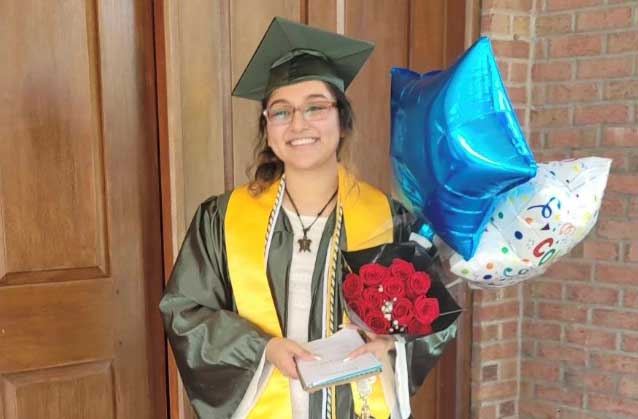 Jimena makes the right choice for herself and family
Youth Relies on LifeSet to move past trauma and navigate foster care
"I felt like I had to be the strong one for us all." These are the words of Jimena, 18, a former foster youth from North Carolina who made a tough decision that landed her and her siblings into the foster care system.
Jimena and her three siblings (a sister and two brothers) grew up with their mother before being separated from her. Their family dynamic changed drastically after Jimena learned about some safety risks in the home.
Once Jimena became aware, she wanted to protect her siblings and felt the responsibility to step up and support her family.
"My mom had been wrongly accused of participating in bad behaviors, so we were taken from her," Jimena said.
She and her siblings ended up in a foster home together before being separated from her two younger brothers. During her time in the foster home, Jimena's natural motherly spirit led her to grow up fast and look after her siblings and other children in the home.
Jimena and her sister eventually were placed in kinship care with an aunt. At that point, her caseworker referred Jimena to Youth Villages' LifeSet program.
LifeSet provides support for young adults who are aging out of the foster care system and may be struggling with trauma from their upbringing. Children and young adults in foster care have often experienced trauma from people who are close to them. Trauma can often impact a person's mental health, ability to trust others and accomplish goals for themselves.
At first, Jimena was skeptical about working with the LifeSet program. "She was apprehensive at first." Marianna said.
After months of conversation with Marianna, a LifeSet specialist for Youth Villages, and developing a relationship with the family, things started to turn around for the better for Jimena. While she was beginning her journey with Youth Villages, Jimena's mother followed court orders to be reunited with her children. Her mother was able to get all of her kids back in the home and they began moving forward with their lives.
The impact of trauma can be detrimental to a person's success as they continue to grow into adulthood. Marianna worked diligently with Jimena to help her through her trauma. Jimena began to open up and trust people again. Together, they worked on setting attainable goals for Jimena, which led her to accomplish a lot.
Jimena has been able to secure a driver's license and a title to her vehicle. She graduated as valedictorian from high school and is now enrolled at Southeastern Community College in Columbus County, North Carolina. She also is a LifeSet Scholar, which means she is provided support as she continues college, including a mentor, monthly stipend and necessary technology for coursework.
Because of the help provided by the LifeSet program, Jimena now has more goals and plans for herself including becoming a pharmacist, enlisting in the military, owning a ranch in the mountains and has a big dream of owning a garage where she can work on aviation projects.
Young adults like Jimena are a crucial component to the need of programs like LifeSet, because without these community-based and in-home services, youth like Jimena may never get an opportunity to address their trauma and work toward better goals for themselves and their families.
Learn more about LifeSet and how you can support this program.