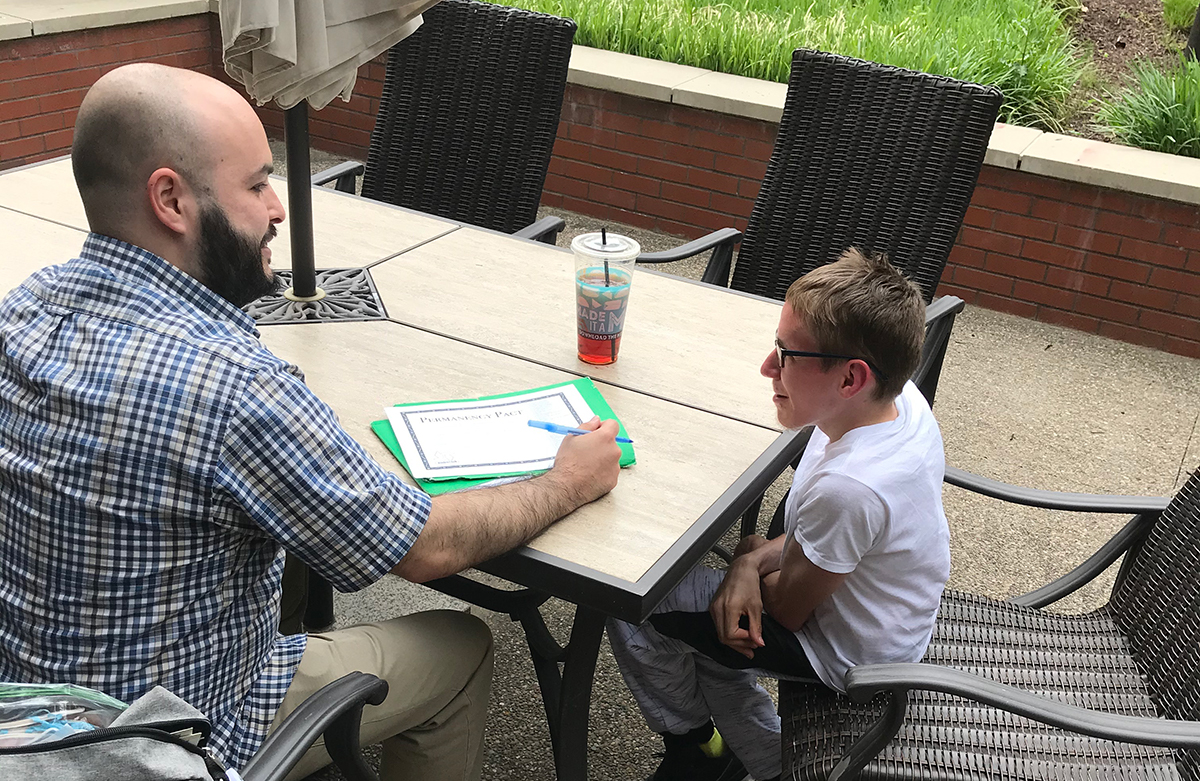 Justin checks off big goals as he moves toward independence
It's been a big year for Justin.
A participant in the Pressley Ridge LifeSet program in Pittsburgh, Pennsylvania, Justin was turning 21 this year and needed to finish high school, find a place to live that gave him more independence, and learn life and social skills. He and LifeSet Specialist Ryan King kept a list and began checking things off.
The LifeSet program in Pittsburgh is a partnership between Youth Villages and the Allegheny County Department of Human Services. It began in 2017 when the county was awarded a three-year grant to start the program, which serves as a bridge to successful adulthood for young people who experience foster care. The program is in its fourth year now and has achieved sustainable funding from the county. Nationally, around 20,000 young people age out of foster care every year; Youth Villages' goal is to ensure that each of them has the support they need as they transition to adulthood.
Adopted from the Republic of Latvia in Europe as an infant, Justin developed complicated physical and mental health issues. He has scoliosis and has been through five spinal surgeries. He entered congregate care after his adoptive family could not meet his challenging needs.
"When I first started working with Justin, I got invited to a team meeting – and there were 65 other invitees," Ryan says. "He had a big team and so many services, but he was about to turn 21. His immigration status is complicated, and some or all of that could be ending soon. We had to do some rapid skill-building."
Justin was eager to learn how to do things on his own. Most young people learn adult life skills as they watch their parents and take on tasks over time. Justin didn't have those opportunities.
Justin began to trust Ryan to help in a way that allows him to learn new skills.
"He's always helping," Justin said. "When I have a problem, I can call him, and he'll immediately help me work through it. I can talk to him about anything."
Justin's first big move was out of a hospital-based living situation to an independent living program designed to help him learn life skills in a supportive environment. He has much more independence and is managing his monthly stipend for the first time.
"The other place was nice, but I wasn't getting to learn new things," Justin said. "This is best. It gives me freedom and options to pick my life, to make my own choices."
Ryan and Justin are working on budgeting, figuring out how banks work and mastering grocery shopping — an activity where Justin is learning everything from list-making to how to check your bank balance to social skills for interactions with cashiers and clerks.
"At first, my big problem was spending too much on my friends," Justin said. "Ryan has helped me learn to say, for instance, 'let's split the check.'"
Ryan sees Justin in person once each week and is only a text or phone call away in an emergency, such as a problem with a bus pass early on. "I know all about buses now," Justin says. "I learned that this year. It's off my list."
There are many things off the list. Justin turned 21 in April and graduated from high school in June.
"Justin wants to get a job, and we've talked about working with children – maybe with children who have special needs," Ryan said.
They're looking for the right volunteer experience to start.
"I stay positive every day no matter what," Justin said. "I feel like I'm not a kid any more; I'm a grown man."