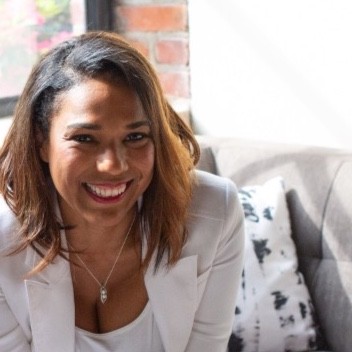 Jes Averhart
Jes realized her true passion for leadership development and women's empowerment while leading partner engagement at the American Underground, a Google for Startups Tech Hub (aka, the "Startup Capital of the South" by CNBC). During her tenure, she had the unique opportunity to manage relationships with Google, Fidelity Labs, Wells Fargo, Coastal Credit Union, Lincoln Financial and others. Her time spent immersed in the startup scene also inspired her to co-found Black Wall Street Homecoming, a nonprofit aimed at closing the funding gap for Black and Brown tech founders.
Earlier in her career, Jes launched a boutique event production company. She specialized in providing professional event management services for the likes of the Cincinnati Bengals & Cleveland Browns (NFL), Cleveland Cavaliers (NBA), the Procter & Gamble Company, Pepsi Cola North America, as well as a growing number of companies based in the Research Triangle Park.
Originally from Evansport, Ohio, Jes learned the ropes quickly by working in the family's real estate, auctioneering and appraisal business. After college, she accepted a corporate role with General Electric; but it didn't take long before she started her own company, making her a 4th generation entrepreneur.
Jes moved to North Carolina in 2005 devoting much of her time serving on various non-profit boards, writing, cheering on The Ohio State Buckeyes and globe-trotting. But without question, her greatest gift is her teenage son Tre who helps keep all things in perspective!