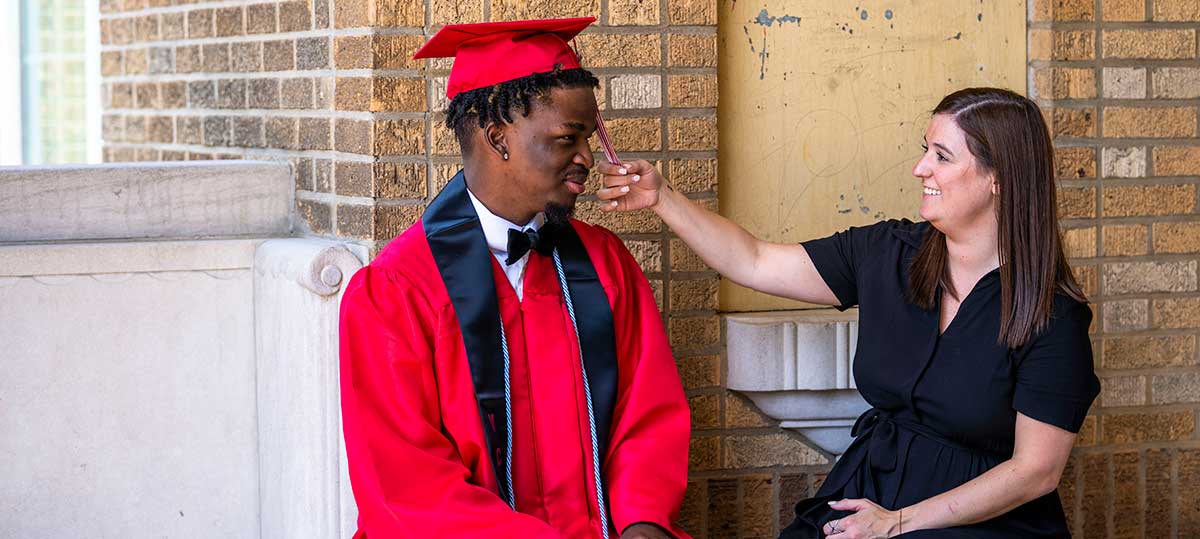 LifeSet meets Brandon's housing needs for his five-year plan to remain on track
LifeSet, a Youth Villages program for young adults who experienced foster care, meets young people where they are in life. Some need major support to help achieve goals as they enter adulthood. Others, though, already have the drive, but a little assistance is needed along the way.
The latter is Brandon's story. He has worked at Starbucks and Memphis Escape Rooms. He has volunteered at juvenile court and The Orpheum. He is a good student who has few issues with getting excellent grades. He even has a five-year plan that includes starting at Rhodes College in the fall – and one more major achievement…
"His goal is to [go to college] then be in the CIA," said Claudia Wilder, his Youth Villages LifeSet specialist. "That was his constant drive… I'm going to college. He never gave up on his plans."
So, what does a goal setting, self-motivated young person like Brandon need from LifeSet? To start, housing assistance.
His time in high school began on the right foot. When he started at Middle College High School in Midtown Memphis, Brandon lived with a foster family in a suburb. He was able to attend because school was virtual at the time. When MCHS went back to in-person classes, Brandon's housing issues arose.
"It was a struggle for him when they went away from virtual," Claudia said. "Brandon had to find different ways to get to school."
Transferring to a school closer to home was an option, but Claudia said Brandon wanted to remain at MCHS because of the "leadership opportunities the school provided." The school, located next to Christian Brothers University, partners with the college for students to take courses for college credit. Brandon will enter Rhodes College with several college credits on his transcript.
Along with trying to find housing, Brandon was seeking to live independently his senior year after he turned 18 years old and left foster care.
"This last semester has been a big struggle because his housing situation was unstable," Claudia said. "He was bouncing from place to place and experienced some depression from the unknowns during those transitions."
For his final months of high school, Brandon moved back in with his biological mother. With this recent move, Claudia said that Brandon worked on his communication skills, learning to identify and reach out to his support systems.
"I check on him every week," Claudia said. "We talk through any little thing that bothers him."
In May 2022, Brandon met one of his goals and graduated high school.
"It was stressful, but I learned life balance and how to prioritize things," Brandon said. "I was able to finish off high school strong."
Brandon's sights have now turned toward college, but his nemesis—housing—reared its head again. Brandon wanted to live on his own but had no prospects. LifeSet worked with OUTMemphis and Rhodes College to remedy the situation: he'll live on campus this summer.
Brandon is thrilled that his college expenses are paid for through scholarships, including one from The Posse Foundation, which identifies, recruits and trains individuals with extraordinary leadership potential. The Posse Scholars receive full-tuition leadership scholarships from the organization's partner colleges, of which Rhodes College is one.
"They (Posse) bring in people from all over," Brandon said. "There are 10 people to a posse. It brings leaders together to build up and support each other."
Brandon is also in the process of applying to the LifeSet Scholars program, which provides monthly stipends, technology devices, school supplies, and other educational resources to LifeSet participants.
His five-year plan takes him through Rhodes College, majoring in international studies. By the start of his senior year, he wants to apply to the CIA.
It seemed like going into the CIA would challenge me. It would push me to be better. That's what I desire in a career.
Brandon's career ambitions also motivate him to break stereotypes about foster youth and helping others.
"I want to be someone other foster youth can look up to," Brandon said. "On television and in movies, foster kids aren't seen as high achievers. That's one thing I push for is to break stereotypes, especially as a foster kid and a Black male."
"I also want to help people," Brandon continued. "I want to go into politics or intelligence where I can help others. That's what drives me."