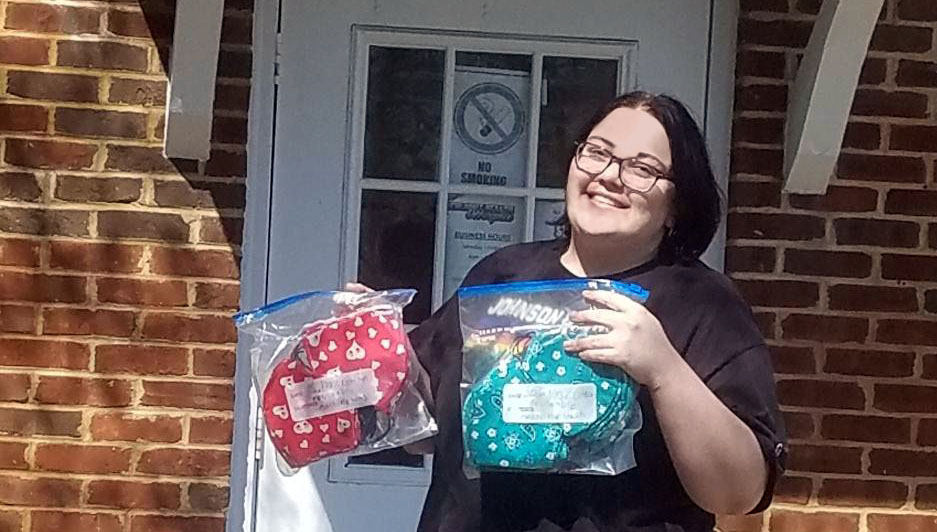 LifeSet participant makes masks to help in COVID-19 crisis
Tae's freshman year in college didn't go as planned. He was in the middle of the second semester at Johnson & Wales University, studying culinary science, when the COVID-19 crisis began.
"I was a little confused, as I hadn't been following the news," he said. "With my school schedule – it's back-to-back classes, and I was very busy. But, I tried to be calm about what was happening."
Tae is a participant in the Youth Villages LifeSet program in North Carolina, which is helping nearly 350 young people make a successful transition to adulthood.
He had his first meeting with his LifeSet Specialist Elaine Cadichon when he was moving into the dorms. She supported him as the dorms closed, and he moved back home. She helped Tae work through the anxiety and practical challenges the pandemic has caused.
Tae misses his classes – particularly Baking and Pastries. Because cooking is such a hands-on activity, his courses weren't continued online.
"Cooking is something I am good at," Tae said. "So when it came time to think about what to study after high school, I focused on that."
Isolation hasn't been easy, but Tae gets support weekly from sessions with Elaine, who is available 24/7. During a phone call, he was preparing halibut for his family's evening meal.
Over the last few weeks, he has found a new way to keep busy and help others. He starting making fabric masks that can reduce the spread of the virus.
"We were watching the news, and they said that people wouldn't be able to go into grocery stores in our town without masks," Tae said. "We didn't have masks! But, I know how to sew."
He had been in the theater group in high school, mostly working backstage and making costumes. Tae had a sewing machine and some leftover theater fabric. He downloaded instructions from the internet and made a few masks so his family could shop.
Later, his mother saw a Facebook post from a place where masks were needed.
"So, we went to Walmart and got more fabric, and I made about 50," Tae said. "It's actually pretty easy."
His next set of masks will be donated to Wine to Water, a nonprofit he supports that does work in North Carolina and around the world.
Tae misses his classes, but has gotten word that the university may open again in July. One day, he'd like to be able to travel and thinks a career in the culinary arts will let him experience life in different countries.