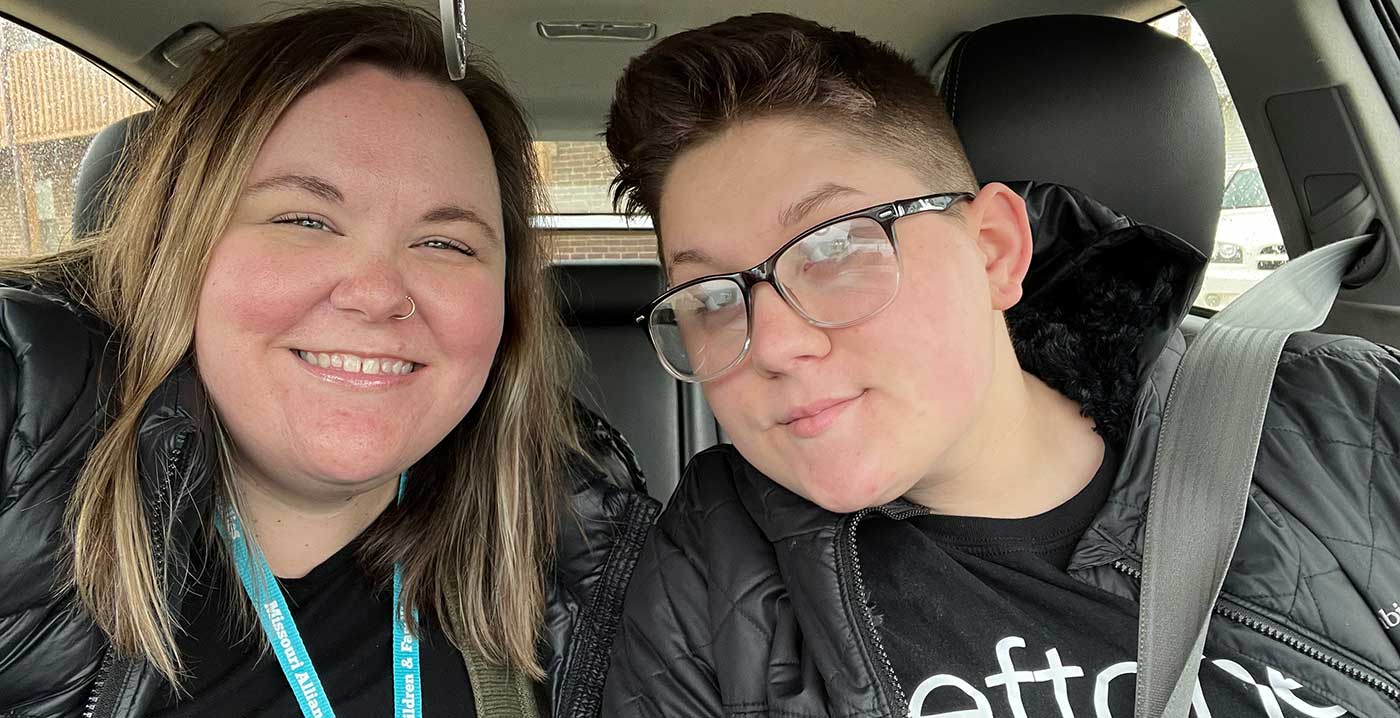 LifeSet walks step-by-step with Dallas
Nineteen-year-old Dallas, a young man in southwest Missouri, sees his LifeSet specialist as more than just a health professional working to help him. She's more like a friend walking with him every step—something he hasn't always had.
"There have been times when I felt like I had no friends, and no one understood me," Dallas said. "But Cara was always willing to listen and try to understand. LifeSet will make you feel less alone in your decisions. It feels like you have someone guiding you into adulthood."
Cara Morris is a LifeSet care manager with Missouri Alliance for Children and Families, a LifeSet partner organization.
Dallas—and his younger brother who is now 15—grew up in their parents' "trap houses," where drugs were used or sold. Both parents were addicts, with one living in Missouri and the other in Texas. The homes had no water and electricity. Due to his parents' substance abuse, Dallas felt responsible for getting money to feed himself and his brother. He even sold drugs to provide food for them.
Dallas also suffered abuse from his father and told teachers about it over time, but before authorities could investigate, the family always moved to another state.
"The moving around kept them from coming into care and prolonged the trauma," said Jill Cobb, LifeSet supervisor.
When Dallas was 16, he and his brother were finally taken into custody. His brother is being adopted by their foster family, but Dallas wanted to move toward independence at 18. That's where LifeSet came in.
"Dallas is one of those youth who raised himself, so it's hard for him to take any advice from others," Morris said. "He has had to teach himself or figure it out on his own for so long."
LifeSet is a bridge from foster care to adulthood designed to help young people reach their goals of self-sufficiency and independence as they prepare to leave foster care.
Morris helped Dallas move into an apartment through the Transitional Living Scattered Site (TLSS) program in April 2021. Recently, they've been working on transportation, and they've been doing driving lessons.
"It's hard for him because I'm sitting in the car with him and telling him what to do," Morris said. "He's growing in that area."
Dallas is learning to receive help from others after years of doing everything on his own.
In addition to the life skills that he is learning, Dallas is receiving help for the trauma he suffered during his childhood. According to Morris, the discussions on Dallas' trauma and the steps needed to take for growth have been greatly aided by his transparency and honesty.
"Dallas is aware of trauma and past trauma to the point where he's willing to work on it," Morris said. "On his plan now, we've added a trauma exposure, while we wait on an Eye Movement Desensitization and Reprocessing (EMDR) therapist."
Cobb added, "Dallas likes Cara's approach of working alongside him, meeting him where he's at and moving forward on his goals. Letting him do the work."
And Dallas is getting work done. He graduated from high school in November 2020 and walked in May 2021. He has a job at a local gas station/convenience store. Dallas is interviewing to be a phlebotomist with the Red Cross, with his eyes on a future career as an EMT.
"Without LifeSet, I don't think I would have come this far," Dallas said. "What I've learned from LifeSet, I'll be able to implement those skills into my life. The skills I've learned from LifeSet have to do with self-discipline, and that has contributed to how far I've come."