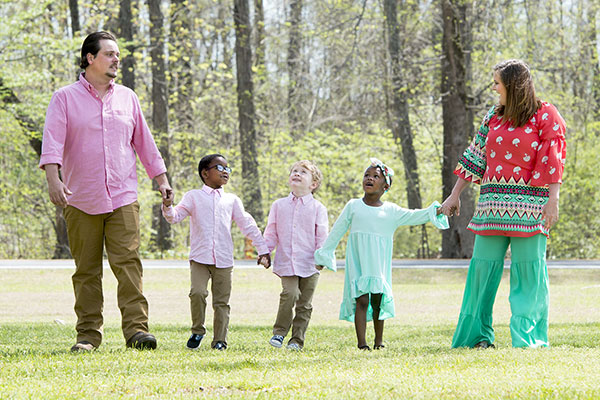 Love instantly: Foster to adoption and now the best Mother's Day for family
Wes and Keely Jennings don't know their birth mother and have not yet gotten the chance to shower a mom with love on Mother's Day with handmade crafts or homemade breakfast.At ages 5 and 4 respectively, the siblings have spent much of their lives in foster care. But this spring, they were given a new home, a new family and a new reason to celebrate all the holidays.
Ryan and Candace Jennings adopted Wes and Keely in March 2017, giving their 5-year-old son Hayden two new playmates."We fell in love instantly," Candace recalled.
"Their foster mom at the time decided not to adopt, and we had already expressed interest in adopting them. Everything was working out perfectly."Also fostering another child, the Jennings are now a household of six, marking this year full of firsts.This will be Candace's first Mother's Day as a mom of four children."It will be extra special," she said. "That just means more love, hugs and kisses. That means more sweet, sweet kids saying, 'Happy Mother's Day' to me. It means mine and Ryan's mothers, stepmothers and grandmothers having more kids telling them 'Happy Mother's Day.' This will be the best one yet for me."
Entering foster care in 2013 due to neglect, Wes and Keely were first placed with the Jennings in summer of 2016.In their months together as a family, Wes and Keely have learned much from their brother Hayden, particularly picking up a word that melted Candace's heart the first time she heard the newest Jennings say it.
"The first time they each called me 'Mommy' is a day I will never forget," she said. "Hearing their sweet voices call me 'Mommy' is always a blessing no matter how many times I hear them say it. It is always a wonderful sound."As the children grow older, Candace and Ryan plan to make them a scrapbook of their birth family to help them understand their history.
For now, when Wes and Keely ask where they came from, their response is just as truthful as any birth certificate."Hayden talks about how he was in my belly. Wes and Keely then ask whose belly they were in," Candace explained. "I tell them they grew in Mommy and Daddy's hearts. They love getting told that. Their faces light up with joy. When they are old enough to understand everything we will tell them everything, but for now, that works."
Acknowledging her own upbringing and her faith, Candace said she and Ryan could not do what they've done for Wes and Keely without their families' support."We are blessed with wonderful Christian examples who have brought us up in life to be who we are today," she said. "We have the best parents and stepparents."
And Candace especially credits her mothering her skills right back to her own mom."My mom is my best friend. Even as a married woman I call her and ask her a billion questions a day."
Hoping to foster more children in the future, once they're settled as a family of six, and perhaps with a bigger house and van, the Jennings are currently loving how perfectly their new family dynamic feels.
"God knew what he was doing when he placed them in our home. It's amazing how much they actually act like us already– Keely is just like me, and Wes is just like Ryan," Candace said. "They are perfect for us, and our kids are our little blessings."
And this year is simply the best year yet for the Jennings, Candace stressed."Ryan and I are loving all the firsts with all of our kids," she concluded. "They have grown and learned so much in the past months – they have learned how to love, how to be loved, how to be good siblings, how to be apart of a big family, their letters and numbers, and since they are in pre-k they are learning and growing like they need to. They love being apart of our family, and we love them being apart of it also."
<div class="get-involved-cta"><!-- [et_pb_line_break_holder] --> <div class="left"><!-- [et_pb_line_break_holder] --> <h2><img src="https://youthvillages.org/wp-content/uploads/2018/08/give.png" style="height: 45px"><span>Get Involved</span></h2><!-- [et_pb_line_break_holder] --> <p>Give your time, talents, and love for youth in various ways such as volunteering at a YV event, mentoring a young person, or even running a race</p><!-- [et_pb_line_break_holder] --> </div><!-- [et_pb_line_break_holder] --> <div class="right"><!-- [et_pb_line_break_holder] --> <a href="" class="btn-cause">Find Your Cause</a><!-- [et_pb_line_break_holder] --> </div><!-- [et_pb_line_break_holder] --></div>