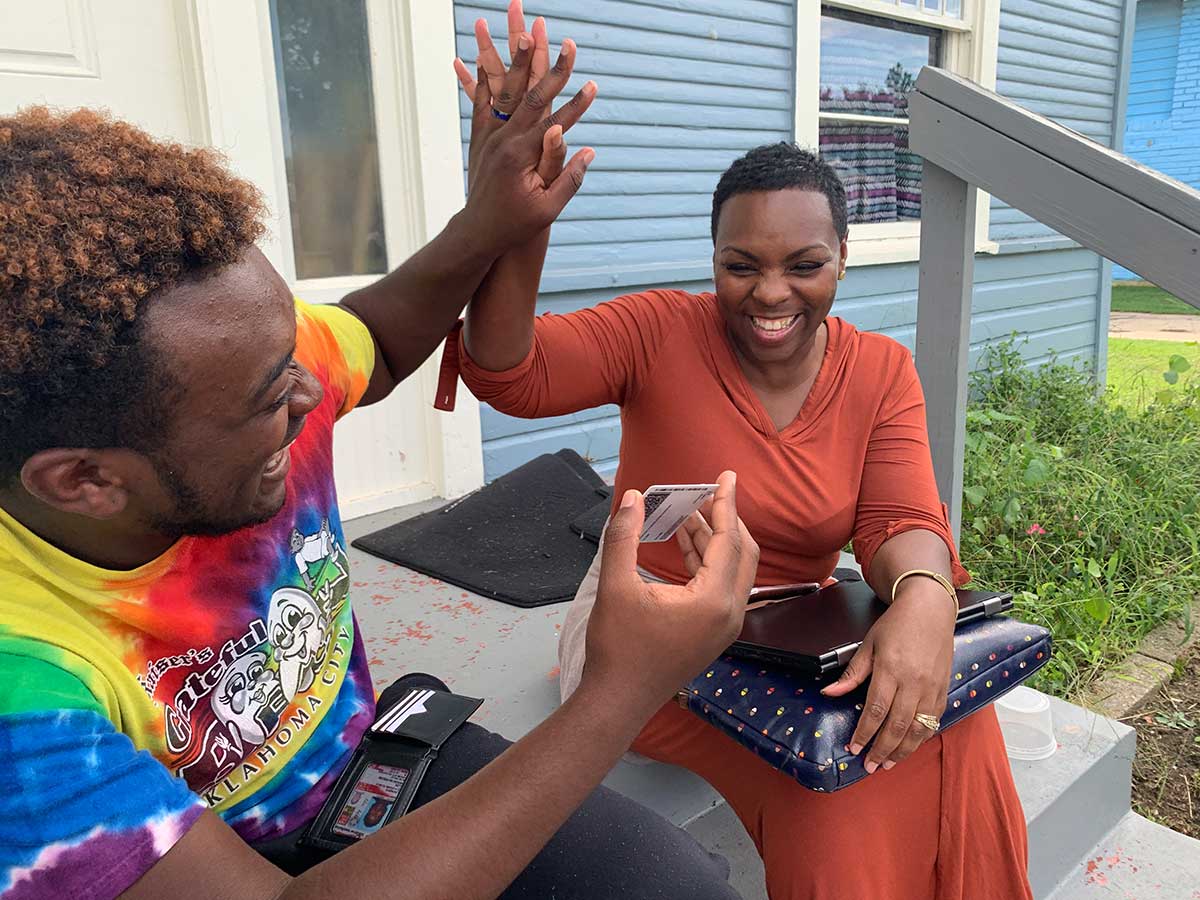 Markese puts his life in overdrive
Markese's first car is a real fixer upper.
As he and his LifeSet specialist look over the 1990s-era Crown Victoria, the 18-year-old Oklahoma City high school senior rattles off the list of the things he wants to do first: change the gas filter, drop the gas tank and clean it, change some of the electronics, bigger tires…
Even though the list is long, Markese is confident he'll be able to get the car up and moving quickly, and that it'll be fast – with its old-school V-8 engine.
Like most young people who experience foster care, Markese is resilient and capable. As a Youth Villages LifeSet participant, he has a specialist helping him learn the skills necessary to become an independent adult. Today, they are celebrating his newly acquired driver's license and making plans to cover the cost of the car repairs.
Nationally, about 20,000 young people turn 18 in foster care and many struggle to overcome childhood adversity in the critical transition years from 17 through 22. Youth Villages developed LifeSet, beginning in 1999, to be the bridge from foster care to successful adulthood, helping young people with issues including relational permanency, housing, employment, physical and mental health, life skills and education. Today, LifeSet is the largest program helping older youth in foster care and one of the only programs to have shown positive impacts in a large, randomized controlled trial. Youth Villages is building a network of direct and partner providers to change the lives of young people in states and jurisdictions across the country.
LifeSet Specialist Lakecia Day has linked Markese with Yes I Can!, an Oklahoma program that will help him financially with the car expenses. She wants him to itemize all the car costs so they can submit a plan to the group. "Insurance, license…" she ticks off. He'll also need money for gas and ongoing maintenance.
Markese has always liked cars and thinks this "project" car will help him learn more about repairing them. When he graduates from high school, he wants to go to vocational school to become a mechanic.
He was 6 years old when he entered foster care for the first time. To make him feel welcome, his foster parents offered to buy him some toys. What would he like? Cars. Soon, he had hundreds of Matchbox cars that he stored in a tall garage in his room.
"I wanted to know more about each one," Markese said. "So, I learned to read the descriptions and knew all about the makes, models and engines."
Markese eventually returned to his biological family, but the relationship disintegrated in his late teen years and he faced housing instability. He "couch surfed," staying with one friend for a few weeks and then another and missed lots of school.
One day, a friend asked Markese if he wanted to go to church with him. Church led to meeting the friend's family. One thing led to another, and the family decided they wanted to offer Markese a home so he could graduate from school. They became his foster family, and Markese's foster mom even works for the Department of Human Services.
Now, Markese is working hard to catch up in school and taking time to advocate for other young people. He testified before a committee for the Oklahoma legislature about foster care policy.
Markese and Lakecia are working on housing and next steps. He's opened a bank account, landed a part-time job and is learning to budget.
"He's very determined to be successful and independent," Lakecia said. "As soon as I started, he began asking questions. Could you show me how to pay a bill? Could you show me… all independent living skills. He would say: 'How do I learn those kinds of things? If you teach me, I'll  get it.'"
And he is.