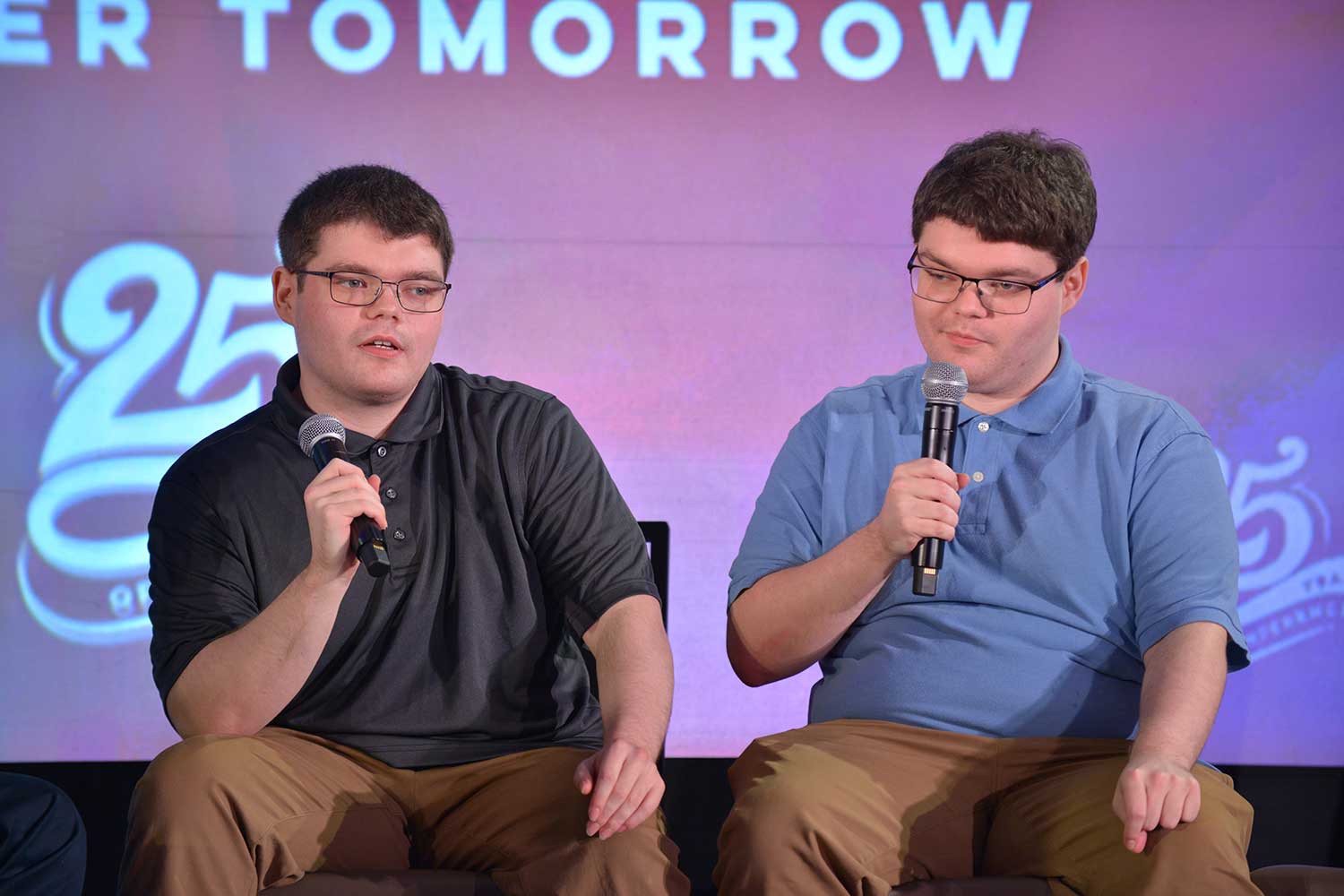 Mentors, mentees connect through 'nerdom'
When twins Jordan and Devan Brown were in the LifeSet program, Youth Villages paired them with mentors. Instead of just sending someone their way, the twins were allowed to list some qualities they wanted in their mentors.
Some mentor qualities may be super cool, talkative, smart and witty. For the twins, the primary trait they wanted in mentors was for them to be nerds!
"I was originally assigned the twins because I was a nerd," said Youth Villages Development Assistant Director Sarah Frierson, with a laugh. "However, as the boys have educated me, there are various levels of 'nerdom.' We are different types of nerds."
Jordan requested someone with expertise in technology, and Youth Villages had just the person!
"Jordan requested someone from the IT department," said Brad Jenkins, Youth Villages' information technology manager. "He was hoping it would be someone who liked video games and would be nerdy."
Jordan and Devan found their matches in Sarah and Brad, and it only took a short time for the relationships to click.
"I wasn't against [mentoring], but I was cautious and reserved," Jordan said. "I wanted to give [them] a chance because the other programs at Youth Villages were successful (for me). So, I said, 'I'll give it a shot and see how it goes.'
Jordan said he was hesitant to share personal stuff with Brad at first, but the two found they had mutual interests.
"I didn't think much of the mentoring program at first," Devan added. "My brother got involved with it well before I did, which made me more eager to join the [mentoring] program once I got the opportunity."
Brad and Sarah immediately connected with the twins on video games and politics, respectively. However, the mentor duo was looking for ways to help the twins expand beyond their main interests and each other.
"They didn't branch out from each other," Sarah said. "They spent all of their time together, in their room, playing video games. Bit by bit, watching the development of them branching out, moving out of their room, and finding a new coffee shop to visit; all these baby steps are exciting to see."
Some of their adventures with their mentors were as simple as taking a ride in the car to visit new landmarks in the area.
"I remember Sarah took me to Crosstown Memphis," Devan said. "There are several shops on the ground floor, including an ice cream shop. I had some spicy ice cream, and that wasn't for me. I went to several coffee shops with her, too."
Some of these new experiences by the twins have turned into new passions for them. For Jordan, one of those is archery.
"Jordan hadn't experienced the world much, so I made it my focus to show him how to change a tire and oil, took him fishing and to see a movie, and showed him how to shoot a bow and arrow," Brad said. "That kind of stuff that you'd think would be part of growing up, but he didn't have it."
Jordan enjoys the concept of 'practicing something until you're good at it,' and he and Brad took every chance to practice with the bow – and they still practice together often.
The twins graduated from college in May 2021 and were discharged from the LifeSet and LifeSet  Scholars programs. While the "official" mentorship has ended, the relationships remain.
"The relationship doesn't end," Sarah said. "We still check in. It takes a different form and isn't quite as formal as it was. Now, we're friends, and Devan and Jordan know they can contact me any time they need something or just want to talk."
It's mentorship that Jordan and Devan credit for their success.
"It was good," Devan said. "It gave me exposure outside my personal living space – I'm a homebody. It helped me get out and experience a little more of the world, even if it was just here in Memphis."
For Jordan, the mentorship has given him inspiration as he moves forward in his life. He has found a career path in IT at Youth Villages.
"Part of my appreciation for Youth Villages is that I want to do for others what they have done for me," Jordan said. "I credit the mentoring program as one of the things that helped change me for the better. It has been a pillar for what has enabled me to be successful as I've become today."