Middle Tennessee celebrates 50 graduates in YVLifeSet™ program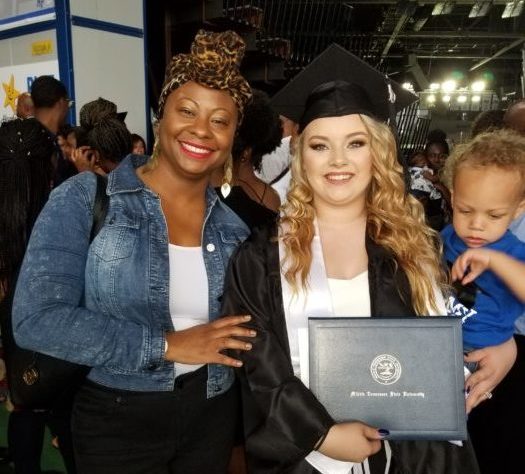 Photo: Jessica Dowlen, YVLifeSet supervisor, with Sahar Hillard, YVLifeSet participant and YVScholar, celebrating her graduation from Middle Tennessee State University.
Youth Villages' YVLifeSet program helps young people who experienced foster care in their late teens get the support they need to transition from adolescence to successful adulthood.
The YVLifeSet program in Middle Tennessee recently held its annual graduation party at the Nashville office to celebrate a record 50 high school and college graduates in 2019.
While the majority graduated from high school, many received their bachelor's degree from colleges including Middle Tennessee State University, Tennessee State University, Austin Peay and Tennessee Tech. A number of graduates also received their associate's degree from Nashville State, Columbia State and Motlow. Nationally, only 3 percent of former foster youth graduate from a four-year college or university, but the Youth Villages program changes those statistics, allowing young people to build a strong foundation for their adult lives.
Notable successes included: Sahar, who graduated Magna Cum Laude with a 3.75 GPA; Tamara, who graduated pre-law and is currently studying for the LSAT and applying to law school; and Ali, who graduated with a degree in social work and recently accepted a position with the Department of Children's Services in Montgomery County.
The intensive support YVLifeSet provides allows young people to develop the skills to cope with previous abuse, neglect and childhood adversity and build healthy adult support systems, learn to manage their physical and mental health, and reunite with biological family members when appropriate. Together, a young person and their YVLifeSet specialist work through the housing, employment, education, transportation and relationship decisions that all young people face at this time.
Each graduate received new luggage to help them travel to their next adventure. Congratulations to Youth Villages' entire class of 2019. We are so proud of you!