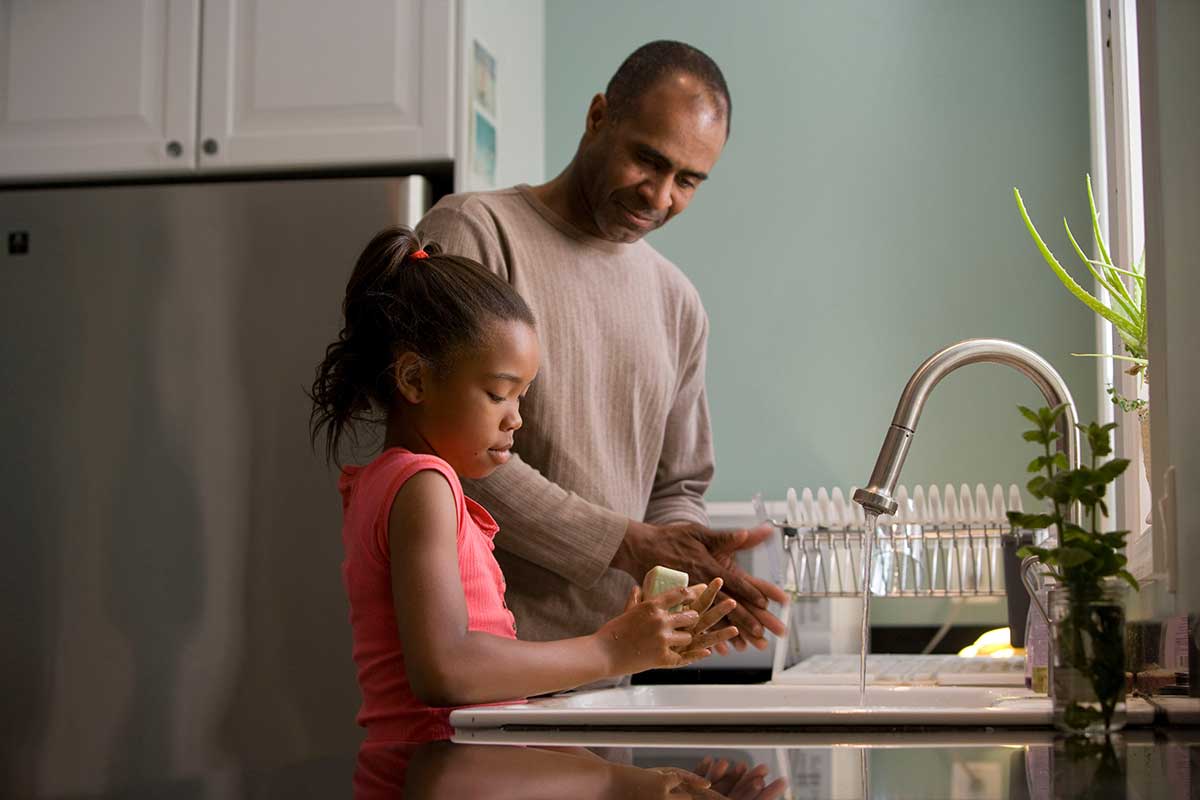 Parental anxiety and COVID-19
The consequences of the COVID-19 outbreak are being felt around the world. For many parents, this means having to cope with disrupted education, family illness, loss of household income and much more. Youth Villages clinical consultant Dr. Rebekah Lemmons provides information and tips to parents that may experience anxiety and fear.
What is parental anxiety and am I at risk?
Parental anxiety is similar to separation anxiety that we see in children. This version of anxiety has an added component of stress and worry that stems from making a transition back to a new normal as we approach the start of a new school year.
Parents, who have been keeping their children at home due to the current pandemic and are preparing to send their children back to school, are the most at risk for this. Others are also likely to struggle with this if they have temporarily had a change in living situations, like working from home with children, and are now preparing to have children return to school, daycare or as parents, return to the office.
Why might this occur?
The current pandemic has created a collective crisis. In crises, people respond and cope in various ways. Even those, who have continued to work or seem to be doing well with these recent societal shifts, may struggle as we reopen and attempt to return to some level of normalcy.
It is important to remember that often when we feel safe, we are able to release deeply suppressed feelings. These may be feelings of stress and worry that develop due to families getting back to regular routine. This routine provides a temporary feeling of safety and normalcy, so it is possible that feelings we have pushed down to get through these difficult times will resurface. Even parents who report they are ready to return to work can experience these challenging emotions.
Remember to give yourself and others grace. Returning to work during a pandemic is new territory for all of us, and we must have patience with others and ourselves while we navigate the process.
What could make this more difficult?
Some people may have lost loved ones or know someone who got sick and struggled to get better.
Others may struggle with anxiety about returning to work safely if they have been working remotely from home.
Similarly, many parents struggle with the idea of finding safe daycare placement as they return to work.
What can we do to manage these emotions in a healthy way?
Be aware of the signs of emotional distress, gain insight into how your place of work plans to keep employees safe, practice proactive self-care and seek treatment when necessary.
Talk to your employer.
Knowledge is the key to becoming more comfortable with returning to work. Talk with your employer about safety considerations to alleviate any worries.
 Consider discussing the plans for safety and health procedures to make sure you fully understand what work will be like when you return. Once you voice some of your concerns and you are able to hear the precautions, standards and processes to promote safety, you may feel some of your anxiety fade.
Practice self-care.
It is important to practice "stress reduction" techniques when you return to the workplace in order to minimize any moments of panic. We suggest simply stopping what you are doing and taking five deep breaths. This will help you to regain your center of calm. You can also download a stress-reducing mindfulness app, like Headspace, to listen to on your breaks. This helps to ease to your mind during this stressful time.
If you are able to get outside for a walk or other exercise during a break or lunch hour, you may find yourself feeling refreshed. The endorphins from the exercise will help your mood to improve.
Make sure you are getting a full night's sleep. While it may seem simple, getting enough sleep can make an incredible difference on our mood and amount of anxiety during the day. Try to get back to your routine from before quarantine and get to bed without interruptions to allow for the best rest possible.
Similarly, eat a balanced and nutritious diet. Vitamins are necessary for your body to function in a healthy manner. Proper diet helps your body to function at its best and fight off negative impacts from stress and illness.
Remember – it is OK and normal to feel anxious. There is nothing wrong with feeling anxious about changes and uncertain times, and you are not alone in these feelings.
Get help if needed.
You may need to seek treatment if your anxiety or worry affects your daily functioning.
You can contact your insurance for a list of therapist in your area, who are covered by your plan. You can also search sites like Psychology Today for licensed mental health providers.
If you have thoughts of suicide, contact 1-800-273-TALK to be connected to the National Suicide Prevention Hotline.