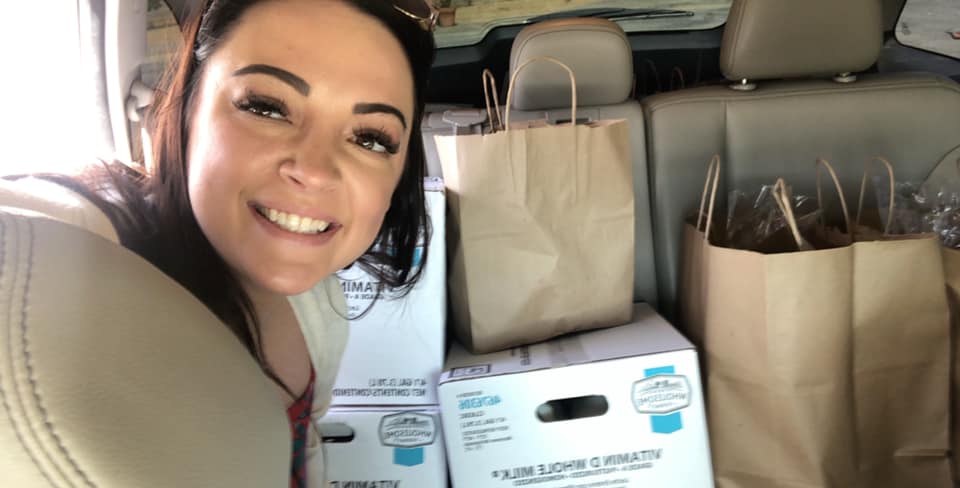 Resourceful Youth Villages supervisor comes to families' aid
"I had a colleague on vacation, and I needed to cover her shift."
This is where it all started for Amber Harris, a supervisor for Youth Villages in Oklahoma City, Oklahoma. One of her families had a potential case of COVID-19, and the mother needed help because she could no longer work.
Amber contemplated how she could assist the family and thought of the additional families that would need help as well. She reached out to others on her team and asked if any of their families needed help due to cutbacks.
Amber's former employer and local restaurant, Whiskey Cake, started selling "survival kits" filled with essentials, including groceries and cleaning products for $45. Amber decided to join forces with the restaurant and told her friends and family about the survival kits. Before she knew it, someone donated 10 kits to her, and Whiskey Cake started to receive inquiries about how to further support Youth Villages' families, specifically.
Amber was able to call her families with the good news, "Your food is outside!"
She recalls physically seeing a weight lift off the families' shoulders when they received a survival kit.
"I'm thankful for having resources – the reality is everyone doesn't have options," Amber said.
Whiskey Cake also uses the proceeds from "survival kit" sales to pay their employees during this time. To date, Amber has been able to secure more than 40 bags, and the donations to Youth Villages Oklahoma keep coming.
"Many people are looking for ways to give and support others during this national health crisis," said Natalie Jones, community development manager with Youth Villages OKC. "Amber found a way for our supporters to be involved in the work and feel good about their contribution."
Additionally, Amber has developed quite the social media presence, as Whiskey Cake continues to share her contribution to the community on their social pages. Her story has gained thousands of viewers and well wishes from the Oklahoma community. See the story here.