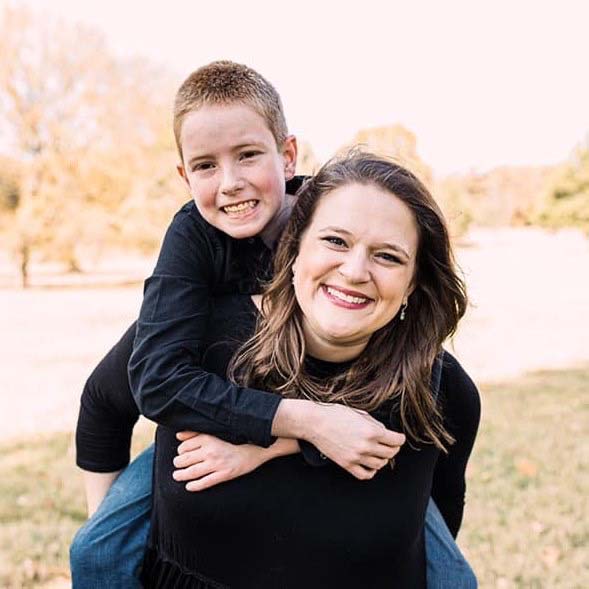 The Mullins family was drawn to the idea of fostering and adopting in late 2019 after being married for 10 years. In early 2020, they were approved as a foster home by the Tennessee Department of Children's Services, and they started looking at profiles for potential placements.
Linzie came across then 12-year-old Jesse's profile on the Adopt Us website, where it was noted that he had experienced trauma in his early years and therefore required a trauma-certified placement. Since the Mullins weren't approved for trauma yet, they intended to move on. Several months later, Linzie's friend suggested that the couple consider working with Youth Villages and recommended, coincidently, that they consider fostering Jesse.
"I saw the signs about Jesse, especially then," said Linzie.
The Mullins family worked to become a therapeutic home through Youth Villages, so they could be considered to take in Jesse. They finished training in March 2020, just as the Youth Villages campus was temporarily shutting down for visitors early in the COVID-19 pandemic. For months, Jesse, his counselor and the couple talked via FaceTime, getting to know each other that way. In August 2020, he moved in with the Mullins for a foster-to-adopt placement, and it has been a perfect match ever since.
"They've [the Mullins] worked hard to help Jesse through his trauma," said Melinda Wilbanks, adoption specialist with Youth Villages. "They have advocated for him and are committed to him."
Linzie and her husband are both teachers. Linzie has taken on the role of helping other young couples, who haven't had biological children for whatever reason, to consider fostering and adopting.
"Linzie is very supportive, allowing potential foster and adoptive couples ask her questions and provides a comradery for families in similar situations," Wilbanks added.
Linzie started a support group with a Facebook following for families who are interested in adopting and fostering teen boys. She helps encourage potential families.
"We want to be needed and helpful, that's why we do the support group," Linzie explained.
When asked for advice for those considering adoption, Linzie said you need room and love; the agency will match you with a good fit.