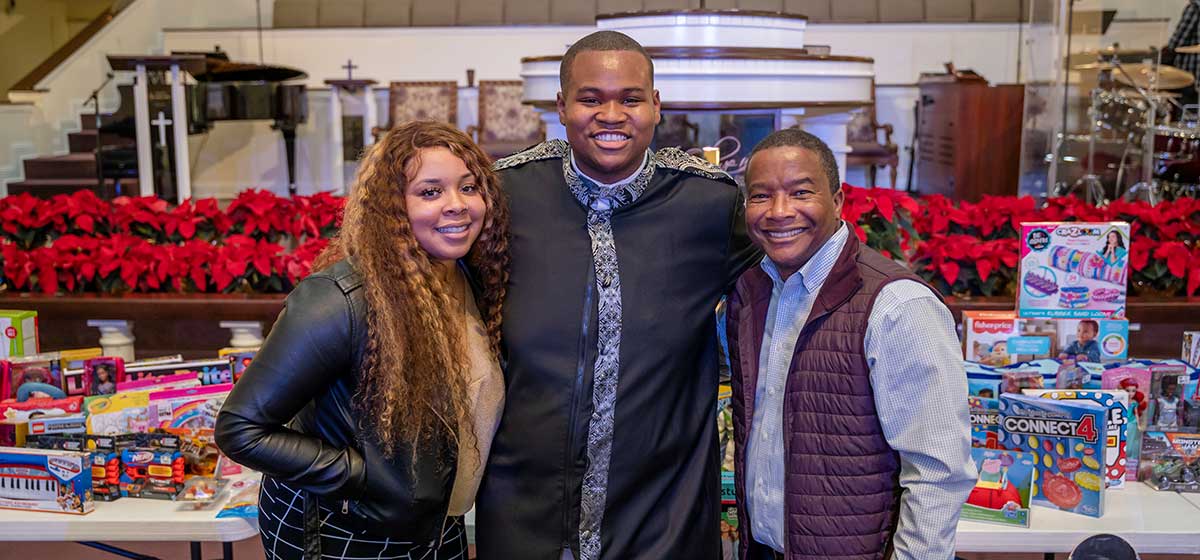 (L-R) Youth Villages West Tennessee Community Campaign Coordinator Peyton Hill, Cameron Kuykindall, Youth Villages Development Manager Patrick Hampton. Kuykindall, a 16-year-old junior at Middle College High School, started a toy drive that helps Holiday Heroes, started a toy drive that helps Holiday Heroes.
Teenager brings joy to youth, families for Holiday Heroes campaign
The 2022 Holiday Heroes campaign was a huge success. Youth Villages was able to bring joy and cheer to more than 1,200 West Tennessee children and their families during the Christmas season. The reason for the successful campaign was the tremendous generosity of support received from donors in our region.
The donations come in many ways from individuals themselves buying toys and gifts for families to businesses giving financially for gifts to be purchased. Most who contribute do so through Youth Villages' outreach or their history with us. However, some contact us through a call, email or online. That's the way 16-year-old Cameron Kuykindall and Youth Villages got connected.
A teenager with a giving heart
While many high school teenagers are hanging out with friends, gaming or buying their first car— all of which Cameron also may do—the Middle College High School junior has his eyes fixed on helping others, especially during the holidays.
Cameron has been blessed to receive gifts every year, but he realized he was the exception rather than the norm.
"For 16 years, I've received presents," Cameron said. "But the unfortunate reality is not every child gets to experience that for different reasons—financial situation, family situation. I thought, 'I thought it was time for me to give back and inspire others to do the same.'"
Cameron's idea was to host a toy drive. However, he didn't jump in without a plan. He looked around to see what he had to work with and began reaching out to organizations that could benefit from his toy drive.
I had a passion to help others. I've always been that type of person. I thought, I have all these resources at my disposal. Why don't I use it to my advantage and hold a toy drive? It's a toy drive, it's for a great cause, it's for children and youth. 
An email to Youth Villages
Cameron assessed his resources in his community and through partnerships. For his first toy drive in 2020, he primarily used his church, Mt. Olive Cathedral Church. The donations would come through his home church, and after the toys were purchased, the gifts were stored there, too. Now, Cameron had to locate an organization.
"When I first started the toy drive, I was emailing and looking around at different organizations, and Youth Villages responded to my email," Cameron said. "That was great, but as I dove in deeper and did research into Youth Villages, I saw the organization helped with foster care to adoption to children's mental health services. To me, this is vital, especially in our time where we are now because even students that I attend school with, we have to go through a lot.
"To know Youth Villages is there, Youth Villages is a light in our community and is right here in Memphis, I felt Youth Villages is the way to go. I'm grateful to partner with an organization whose impact is global and local as well."
After the first year, Cameron's impact grew. In 2021, he pulled his school, Middle College High School, into the mix, including getting the school's student government involved. Cameron then reached out to other churches and made more connections in the community. Over the three years, more than 500 toys have been purchased from more than $5,000 in donations.
"I have to thank everyone. I can't do this alone," Cameron said. "There are so many people that make this toy drive what it is. It's beyond me what we've been able to do, and beyond me what we will do going forward."
Cameron says that, while he's in Memphis, the toy drive will continue. His idea is to reach out to more partners, companies and organizations to contribute and make more children's and families' holidays merrier. "Our goal is to do bigger and better for the children of Youth Villages," Cameron said.