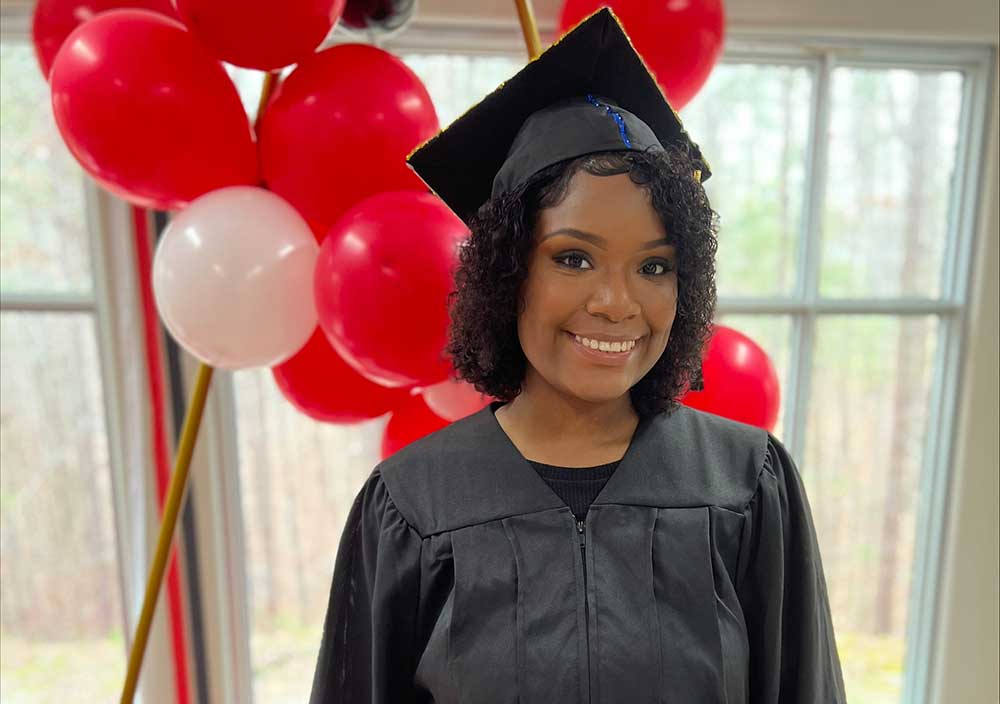 Youth Villages Helps Tione find placement and navigate intense life challenges
Children in foster care often face intense challenges at a young age, and by the time they reach adulthood, accomplishing goals can seem intangible. That's why programs like
LifeSet
are important to the success of young adults who are aging out of foster care. This program aids the process of helping foster youth entering the "real world" independently to become successful at achieving goals, maintaining their wellness and providing access to important resources.
Finding the motivation for foster youth who have been in the system for years to achieve something greater can be a major challenge. Whether it be securing a job, getting a driver's license or pursuing higher education.
Tione is an example of the success one can find with programs that Youth Villages provide. Tione has navigated the foster care system since she was 4 years old in Georgia.
She's faced unimaginable circumstances, including physical abuse, emotional trauma and suicidal ideations. Her journey to a stable life was an uphill battle.
Tione entered the foster care system after her mother lost custody of all four of her children due to substance abuse. She stayed in foster care for a few years before she was reunited with her mother at age 7. Tione re-entered foster care at 11 years old after her mother relapsed.
Her life's circumstances led her down a path of developing severe mental and behavioral issues. She began self-harming on a regular basis, which landed her in hospitals multiple times. She also had a lot of fights and verbal altercations, stemming from a lack of trust of people.
As she grew older, she became homeless, due to a lack of placement in foster care. She was placed in 17 different hotels as a temporary solution until she could find placement, which never happened before finding Youth Villages.
Tione, now in LifeSet, came to Youth Villages' Inner Harbour campus in Douglasville, Georgia, after being referred by her social worker. Inner Harbour helped Tione navigate the challenges of her life to get to where she is now.
Things started to turn around for Tione when she met Dominique, a therapist at the campus. Together, they worked on identifying triggers stemming from her traumatic past, setting goals and finishing school.
"I thought she was mean at first, but she showed me something different," Tione said. "When I met her and got to know her, I started to ease off my negative behaviors."
Tione began seeing progress in not having suicidal ideations, going from a history of carrying out acts nearly every day to not having any thoughts at all for nearly months at a time.
School also became a huge part of Tione's success. It became a focus of hers to accomplish something not many in her family had accomplished: receiving a high school diploma.
Now 18, Tione has secured a job at a local Waffle House and is enrolled at Atlanta Metropolitan State College. She plans to study criminal justice with a concentration in forensic investigation. She also will continue with LifeSet, getting continued support as she makes the transition into adulthood.
With the help of Youth Villages, she has accomplished life tasks, better navigated her emotions and learned how to trust people a little more.