Youth Villages' supporters provide backpacks and supplies for more than 350 children in New England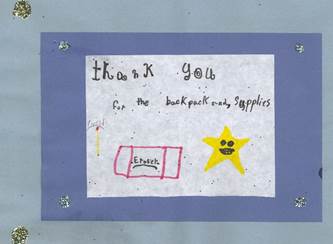 For the last eight years, the Youth Villages' Backpack Heroes initiative has been able to alleviate the stress of buying back-to-school supplies for some of New England's most vulnerable children and families.
Thanks to the generosity of donors and volunteers, the 2017 Backpack Heroes was a remarkable success! Youth Villages was able to distribute backpacks filled with new school supplies to more than 350. We couldn't have done it without your tremendous support!
Youth Villages' Sarah Piekarczyk, Intercept program supervisor, had the opportunity to see first-hand the impact that a backpack can have on a family.
"We have been working with a family with four young children that have recently been placed with their great aunt and uncle. The children have experience so much instability in their lives including the death of their mother, and the impending school year was going to be a financial burden. In addition to the cost of going back to school, each of the children has different medical needs and their great aunt and uncle have recently had to quit their jobs in order to raise these children and meet their needs."
Sarah Piekarczyk, Intercept program supervisor, Youth Villages
The family was sponsored by generous donors and each child received a new outfit, which they definitely needed for school. Their backpacks had the favorite superheroes and cartoon characters on them and they were filled with new school supplies. We were even able to get the great aunt and uncle four zipper binders to help keep track of the children's medical records and information. The family continues to thank me for these items each week since receiving them, and they were so excited to show me they were using the school supplies when they got home from school! New clothes, new backpacks and school supplies were a huge help, not only to this family, but to all of our youth and families across New England. Thank you everyone that donated, shopped and took the time to care about this family and give them a great start to the school year!
<div class="get-involved-cta"><!-- [et_pb_line_break_holder] --> <div class="left"><!-- [et_pb_line_break_holder] --> <h2><img src="https://youthvillages.org/wp-content/uploads/2018/08/give.png" style="height: 45px"><span>Get Involved</span></h2><!-- [et_pb_line_break_holder] --> <p>Give your time, talents, and love for youth in various ways such as volunteering at a YV event, mentoring a young person, or even running a race</p><!-- [et_pb_line_break_holder] --> </div><!-- [et_pb_line_break_holder] --> <div class="right"><!-- [et_pb_line_break_holder] --> <a href="" class="btn-cause">Find Your Cause</a><!-- [et_pb_line_break_holder] --> </div><!-- [et_pb_line_break_holder] --></div>