YVLifeSet participant hired at Youth Villages, ready to give back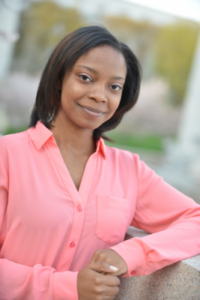 Kristie Wimbush beat all the odds…
Only about three percent of young people who experience foster care graduate from university. Kristie received her bachelor's degree from North Carolina Central University in May of 2016. A year later, she earned a master's degree in social work from the University of South Carolina.
A former participant in the YVLifeSet program, Kristie joins the Youth Villages' staff this week as a youth partner, ready to show young people in our intensive in-home program in Durham, North Carolina, how to beat those odds, too. 
The first thing she'll tell them: "Never underestimate your capabilities. There's never a moment when you're truly alone. There are people who care about you."
She knows what she's talking about.
Born into foster care, Kristie was adopted as a toddler and raised by a loving mom. But, tragedy struck in her teens, when her mom was diagnosed with cancer. Kristie became her caregiver, but her mother died before she graduated from high school.
She was left homeless, moving from house to house as friends helped. A school social worker connected her with Youth Villages.
The YVLifeSet specialist provided the support Kristie needed to step into the next phase of her life, choosing a college and becoming an independent adult. Kristie became a part of another YV effort that supports high-achieving YVLifeSet participants through college.
For her master's degree, Kristie moved from Durham to South Carolina and went to school fulltime without a break to finish in a year. Graduation was emotional.
"I thought about all the things that I'd been through and wished that my mom was there," Kristie said. "I want to give a huge 'thank you' to everyone who helped me along the way. Words can't express my gratitude."
She took a few weeks off to relax, but is eager to start work as part of the Youth Villages' team in Durham.
"I know my experience will help me relate to children and young people who are having similar challenges. That makes a world of difference," she said.
As well as her work with Youth Villages, Kristie hopes to continue to be an advocate for foster youth and foster alumni. She wants North Carolina to have a state chapter of the National Foster Youth Institute. She participated in NFYI's Shadow Day for foster youth several years ago, shadowing NC Congressman G.K. Butterfield.
 "I know my experience will help me relate to children and young people who are having similar challenges. That makes a world of difference."
        -Kristie Wimbush
<div class="get-involved-cta"><!-- [et_pb_line_break_holder] --> <div class="left"><!-- [et_pb_line_break_holder] --> <h2><img src="https://youthvillages.org/wp-content/uploads/2018/08/give.png" style="height: 45px"><span>Get Involved</span></h2><!-- [et_pb_line_break_holder] --> <p>Give your time, talents, and love for youth in various ways such as volunteering at a YV event, mentoring a young person, or even running a race</p><!-- [et_pb_line_break_holder] --> </div><!-- [et_pb_line_break_holder] --> <div class="right"><!-- [et_pb_line_break_holder] --> <a href="" class="btn-cause">Find Your Cause</a><!-- [et_pb_line_break_holder] --> </div><!-- [et_pb_line_break_holder] --></div>