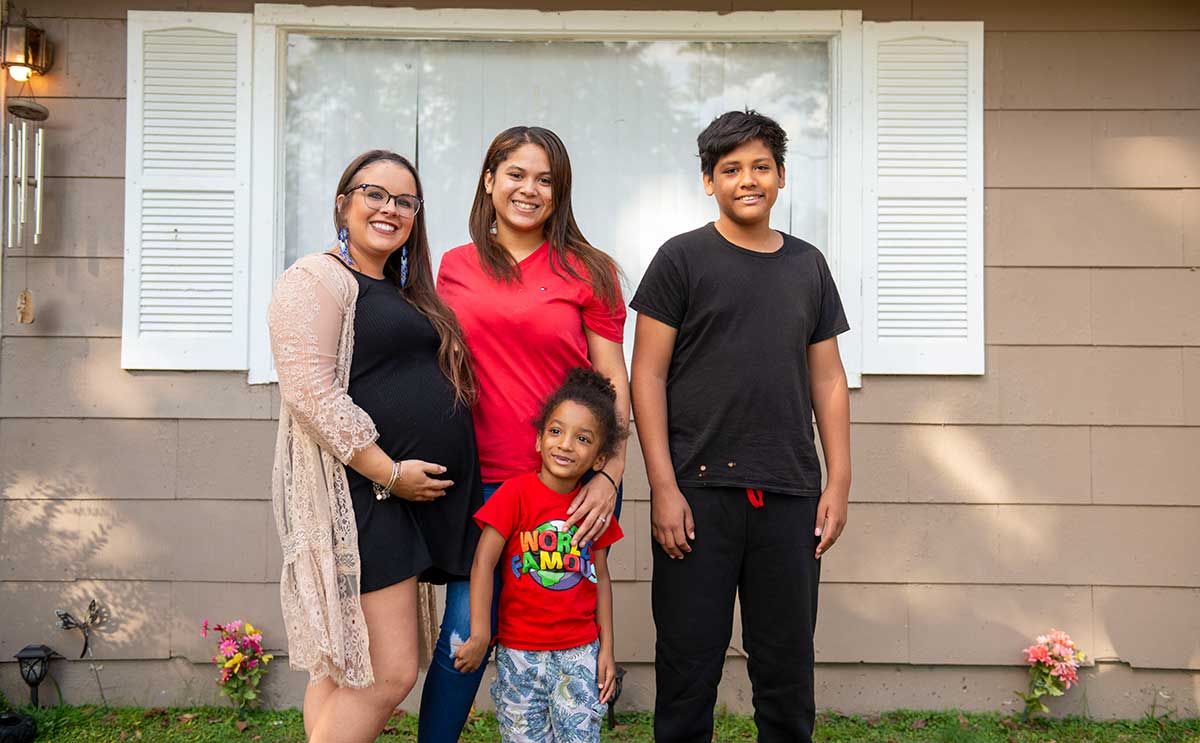 At 17, Gloria overcomes tragedy with the help of Youth Villages' Intercept
Many children enter foster care because of a lack of support in a time of family crisis. Youth Villages' intensive in-home services program, Intercept, provides support and help for children and parents that can make a difference.
At 16, Gloria had already experienced enough severe challenges. Pregnant as a teen, she had been assaulted, causing her son, Donovan's, premature birth at 27 weeks. A year later, bullet shrapnel hit her face, and she was mistakenly charged with a crime. After the incident, the Tennessee Department of Children's Services referred Gloria and her mother to Youth Villages for help.
When Family Intervention Specialist Brittany Sherman first met Gloria, the teenager's family — her son, her mother and brother — were living in a small motel room in a sketchy area of town. Paxton, 12, was still enrolled in school, but Gloria hadn't gone back to school after ninth grade.
Sherman began meeting with the family at the motel, three times each week to provide intensive help and support. They began to work on safer housing and meeting basic clothing and food needs. Gloria's mother was focused on getting a job, but it soon became apparent that she was very ill.
Mom was admitted to a hospital and then to ICU, leaving Gloria and the children virtually alone. The Intercept specialist was with Gloria and Paxton when they were called to the hospital for a final consultation with the doctors.
"They told us that their mother was dying, and that she wouldn't recover." Sherman said. "It was very hard. We went from the hospital to the DCS office to talk about where they could go."
Gloria was vehemently opposed to foster care, but there was no choice that day. Sherman and the DCS case manager kept working, though, and the children were in foster care for only two nights before they were approved to live with the baby's paternal grandmother.
"She is a hero," Sherman said. "She stepped up to take all three of the children, even though it was hard for her financially. She took them to the hospital to see their mother in the final days and stood with them when she died."
The stability of a permanent home helped Gloria in the weeks after her mother's death, as did Intercept's continued support. Sherman helped the children grieve and work on other things, like education and employment.
"She's helped a lot," Gloria said of her specialist. "She's always patient and has been there through everything we've been through."
Gloria went back to school at Pathways, a flexible public high school, and got a job working almost 40 hours a week to help with finances.
"She's making As and Bs and wants to graduate," Sherman said. "She's saving for a car, because transportation is so important."
And, for Gloria, the future is coming into focus. "When I turn 18, I want to formally adopt Paxton and get a place for us," Gloria said. She's looking at furthering her education after high school and maybe a career in the military.
"I believe she'll do it!" Sherman said. "She's very mature, a great young mom, and she's cared for Paxton all his life."