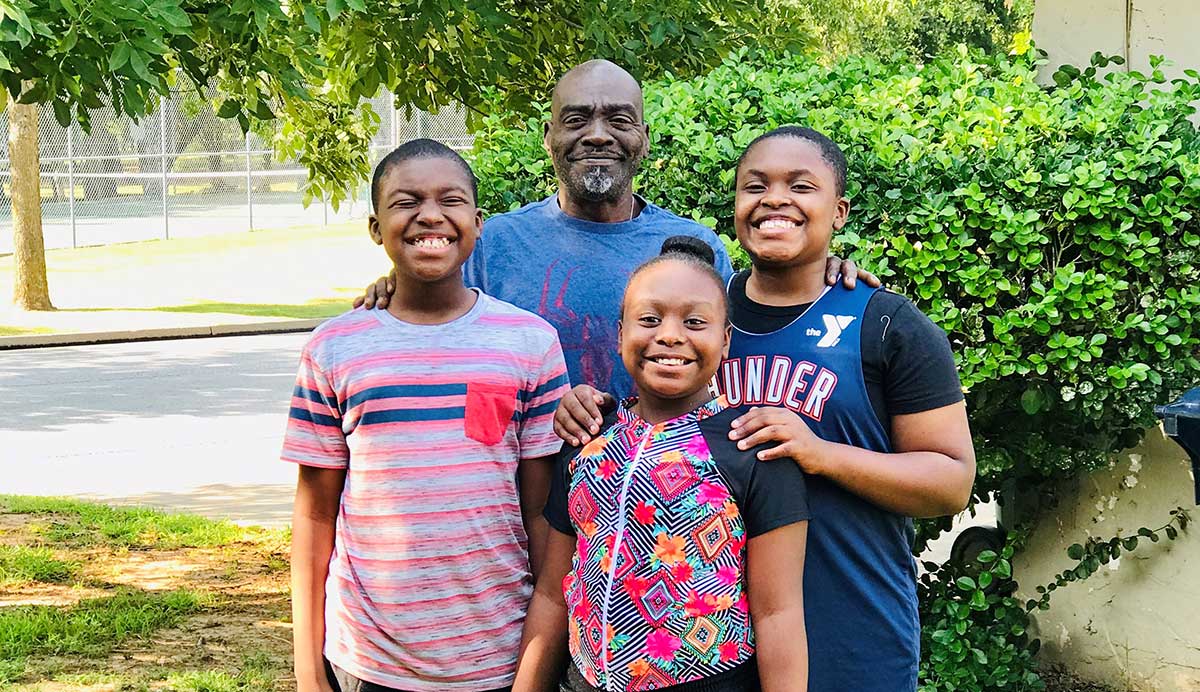 Family of Five Benefits from Youth Villages' Intercept Program
Michael, Jr., a 13-year-old from Oklahoma, his parents and his siblings successfully went through Youth Villages' Intercept program in 2020. After issues with the parents landed Michael and his siblings in temporary foster care, developing collaborative problem-solving skills and patient listening have made all the difference with the family dynamics with mom, dad, Michael, 12-year-old Malcom and 10-year-old Zaria.
Brittany Dray, clinical supervisor, and Kendall Gibson, family intervention specialist, worked closely with the family, helping to develop open communication among the separated parents and the three kids, who are living with their dad, Michael Sr.
"The kids were hearing different rules from their parents," Brittany said. "Talking to mom and dad about a co-parenting strategy helped to build a respectful communication approach and healthy dialogue."
The family met with Kendall three times a week; twice with the kids and once with the parents. Often, these meetings were in the driveway where they could draw with chalk, or at the park. While this was due to COVID-19 social distancing, the chalk drawing really helped the kids open up. Kendall was able to find out the kids' favorite fictional characters as a result and actually developed the exit and wait plan based on their favorites.
"We talked about how to create boundaries with the parents, finding the fine line with the kids and past parental behavior," Kendall said. "Mom and dad understood that they needed to stay calm, to provide good examples for their kids."
"Kendall created a safe environment, where the kids felt comfortable talking," Michael, Sr. said. "Kendall didn't push anything on us, but she also wasn't dismissive if we wanted to discuss current events. She helped us at the beginning of COVID-19 when things were chaotic."
Kendall worked with the kids to develop a curriculum to follow, teaching them to talk about what is bothering them and affecting their behaviors. She also taught the family how to communicate with the intention to help each other, not play the blame game for shortcomings.
"If you find yourself in a situation like we had, I recommend that you calm down, work out your own and family issues, and learn the coping skills," Michael, Sr. said. "Kendall and Youth Villages brought a sense of calm and stability to our situation.
Michael, Sr. said he sees pieces of what the kids learned in their day-to-day living. His middle child, Malcom, has become more confident and excited about school.
The Intercept program is an all-inclusive, in-home parenting skills program designed to reunite parents with their children. To learn more about our Intercept program, visit our website here.