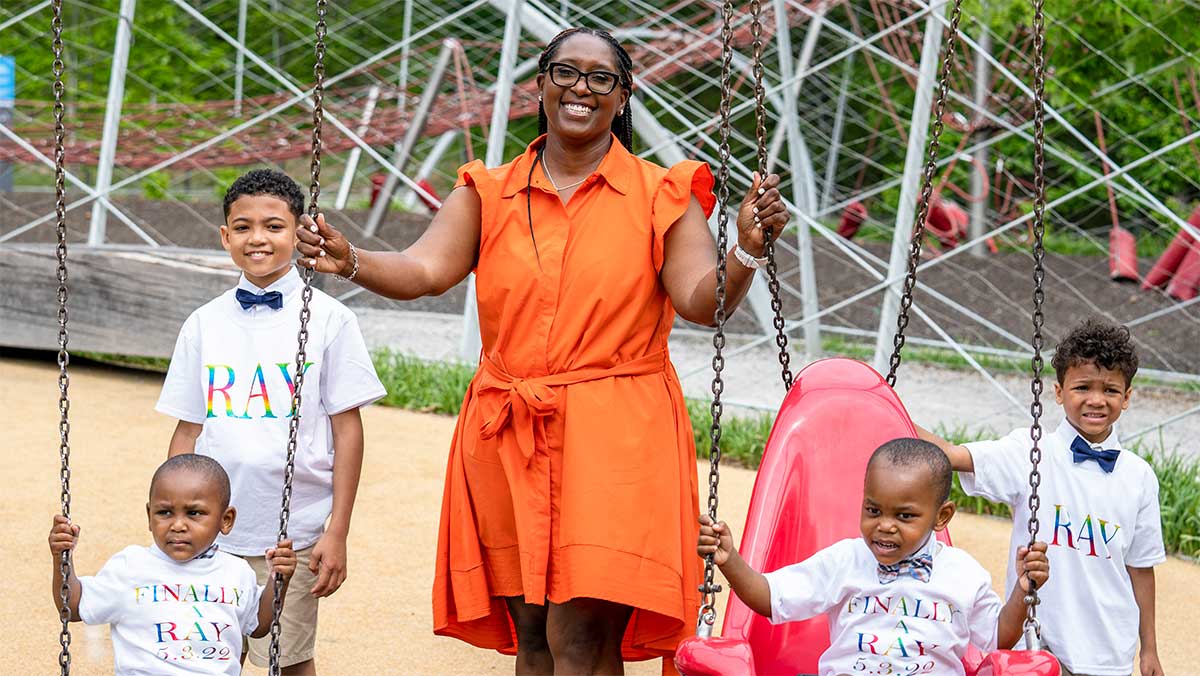 Youth Villages celebrates an adoption story on National Foster Care Day
Even the best laid plans don't go as planned, and that also goes for foster care and adoption. However, for Chinishe Ray, her plans to adopt have gone as expected not only once but twice.
In 2015, Ray became a foster parent through training from Youth Villages. Four years later, she adopted Kaleb and Kobe, now 9 and 7 years old, respectively. Ray adopted the two boys on Nov. 23, 2019, which was National Adoption Day during November's annual National Adoption Awareness Month.
Fast-forward nearly three years and Ray has done it again. On May 3, 2022 (National Foster Care Day), Ray adopted 3-year-old twin boys, Jace and Jaxon. She fostered the twins for nearly 1,200 days, or since shortly after they were born.
I'm so excited that this day has finally come. It's been a long road. They were teeny-tiny when they came to me, and to see how they have progressed as far as their medical conditions… to see them thriving and being rambunctious 3-year-olds is a blessing. I'm so amazed it worked out the way it did.
According to Ray, she hopes her story brings a light to the need for more foster care parents. On any given day in the state of Tennessee, there are more than 8,000 children in foster care with nearly half in need of a foster family. Youth Villages currently has 534 children in foster care across the state and wants to provide placements for 600 children in 2022. Last year, Youth Villages helped celebrate 80 adoptions.
"To adopt these two on National Foster Care Awareness Day is so important because the need for foster care is great," Ray said. "You don't need to have a whole lot; all you need is an open heart. You have to love children and provide them a loving home. I try to encourage others to do it."
Ray also gives credit to Youth Villages for its role in helping her grow her family.
"Youth Villages is so helpful," Ray said. "I can't express all the support they give in the foster and adoption arenas and how they move the process along. Youth Villages has been instrumental."
With the adoption complete, the Ray family will hold a celebration in early June. And the family has more plans after that, including a vacation. "We're going to settle in as a family and enjoy each other with the summertime here. We're excited," Ray said.