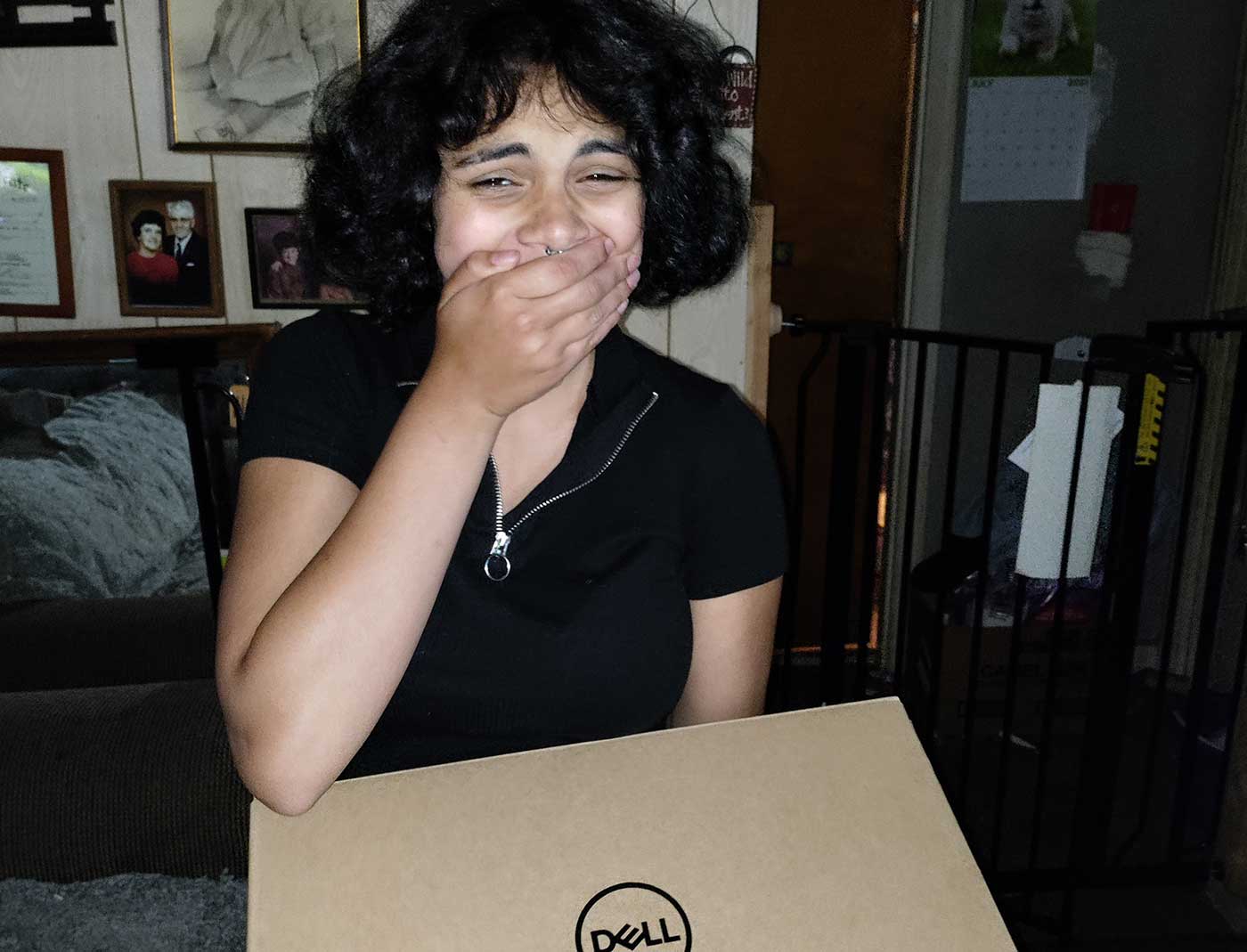 Healing Through the Written Word
Sometimes, the closest people to us—family and friends—don't understand. They may think they know the situation better than anyone, even the person who is suffering. Instead of helping that person, it may lead to further issues.
That's what Sha'Kyra experienced with the passing of her grandfather when she was 12 years old. Everyone, including her grandmother, Tonya, thought they knew how Sha'Kyra felt and what was best for her. They didn't, and Sha'Kyra, an introvert by nature, tried other ways—mostly negative—to handle her grief.
"When her grandfather passed, Sha'Kyra suffered trauma and went into depression," said Devon Martinez, Youth Villages Regional Supervisor who worked with Sha'Kyra near the end of her treatment.
Sha'Kyra's grandparents gained full custody when she was around 2 years old because her mother was unable to financially care for her. While in her grandparents' care, Sha'kyra and her grandfather developed a special relationship. She was his favorite, and they loved each other's sense of humor. When he passed away, Sha'Kyra's life was turned upside down.
The way Sha'Kyra dealt with her grandfather's death affected her actions both at school and in the home. At school, she encountered a lot of disciplinary incidents and faced bullying on a regular basis.
Her issues did not get any better at home. Tonya and Sha'Kyra had difficulty communicating, with the grandmother's outspoken personality a lot of times engulfing Sha'Kyra's shy nature. This caused Sha'Kyra to have more anger toward Tonya and build more barriers of communication between them. Sha'Kyra continued to spiral downward.
"Her trauma went on further into suicidal ideation and even animal cruelty," Devon said.
Sha'Kyra, 14 years old at the time, was sent to a juvenile counselor who referred her and the family to Youth Villages and its Intercept program, which recently received a well-supported designation from the from the Title IV-E Prevention Services Clearinghouse.
Intercept is a comprehensive, systemic approach that lightens the load of family stress and instability for parents or caregivers, stepping in to help children with emotional and behavioral problems, as well as every member of the family. Specialists help children and families learn ways to address mental health needs, assist with schools and teachers, promote the family's financial and housing stability, work in the neighborhood and with children's peers, and provide 24-hour, in-person crisis support to families.
Sha'Kyra and her family began the Intercept program in February 2021. While Sha'Kyra was getting the help she needed, Tonya wasn't "all-in" from the start.
"Most kids that come to us have already gone through multiple services," Devon said. "This family had not, and the grandmother was hesitant. Tonya told you the way she felt and wasn't willing to do any mental health things for herself."
Despite a little resistance from Tonya, Sha'Kyra began the sessions, and the family didn't miss any treatment. The specialist worked with Sha'Kyra to explore and communicate her feelings and provided her with a lot of safety planning.
As the sessions continued, Sha'Kyra opened up more and shared about the events on the day of her grandfather's passing. She also talked about the similarities and differences in the relationship with her grandmother—before and after her grandfather's death.
For her growth to take the next step, the specialist recommended to Sha'Kyra that she write about her feelings in a trauma narrative and read it to Tonya. Seven months into the program, Sha'Kyra read her narrative to her grandmother. It was Sha'Kyra's narrative that started Tonya not only believing the program was working but also seeing their relationship mending.
"Sha'Kyra conquered that fear about the relationship with her grandmother," Devon said. "Tonya listened and said, 'I didn't know you felt that way. Thank you for sharing.' Tonya applied everything she had learned to sit back, listen and trust."
Home life improved, and they started communicating about things happening at home and school. In addition, Sha'Kyra received a new laptop through Backpack Heroes to assist her with virtual classes and homework.
In October 2021, a month after sharing her trauma narrative, Sha'Kyra was discharged from services.
"After months of working with us, it opened her (Tonya's) eyes about how helpful mental health services can be, and that grief shouldn't be pushed down," Devon said. "To see how far they've come is really cool."