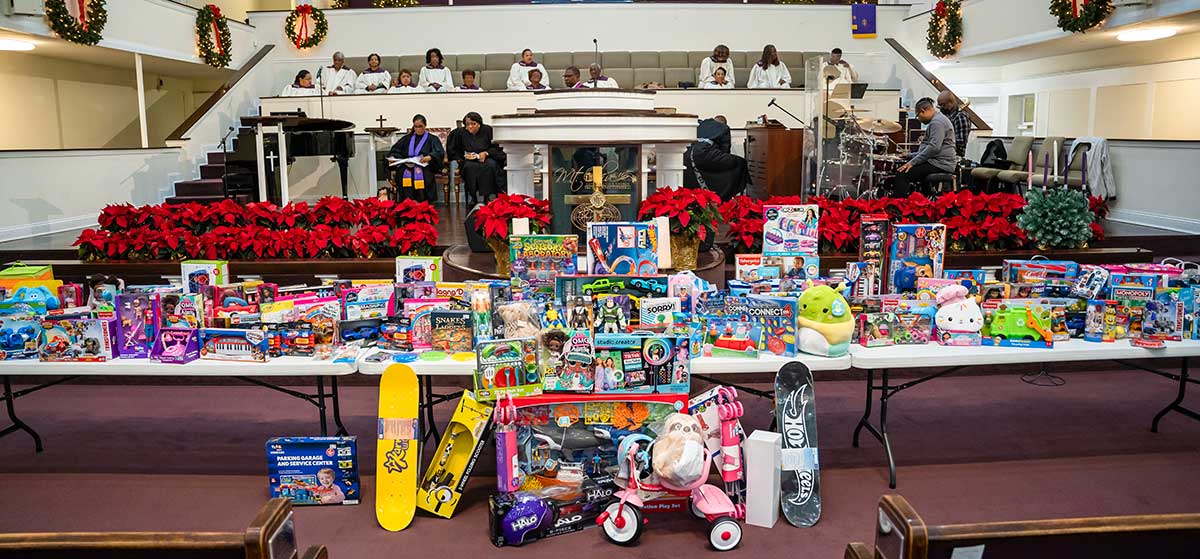 Holiday Heroes across the U.S. bring cheer to Youth Villages children and families
Gift wrapping parties hosted by volunteers and donors
The annual Youth Villages Holiday Heroes campaign spread cheer to thousands of families and youth in our programs across the country.
West Tennessee hosted its Holiday Heroes gift-wrapping party with the University of Memphis Athletics department and their student-athletes.
"We are thrilled to partner with the University of Memphis Athletics department year-round here at Youth Villages," said Katie Jones, Youth Villages Director of Development for West Tennessee. "We're so grateful for the love and support they give to the kids in our care."
More than 50 student-athletes, faculty and staff cleared their busy schedules to participate in this event. They fulfilled wish lists for 41 youth this year for Holiday Heroes. Jones says it makes it extra special to have the athletics department shop for the kids, and it emphasizes the impact of their partnership.
"It shows us how close our athletics program is, and that the community does a good job supporting us," said Colin Welshe, UofM men's soccer student-athlete. "We want to help, especially during the holidays, because there's no better time to give back to people who are in need and to make a kid smile and happy during [the holidays] means a lot."

Volunteers across Massachusetts and New Hampshire helped sort and distribute 610 wish lists. Youth Villages Development Manager of MA/NH Mackenzie Giuffre said more than 60 individual and corporate volunteers delivered 2,000 presents and holiday cheer to seven regional offices.
In North Carolina, Piedmont Natural Gas and Vaya have been ongoing Holiday Heroes through the years.
Without their financial sponsorship of Holiday Heroes, we wouldn't be able to spread joy this year to more than 450 youth throughout North Carolina.
In Middle Tennessee, our goal was to raise about $250,000 to provide gifts of children and youth. They received around 1,200 gift donations from generous community members. Corporate volunteers, like TechnologyAdvice, shopped for 400 young people in Youth Villages' services. Journeys, a retail company, ended this event with a Holiday Cheers, Beers & Volunteers Wrapping Party, in partnership with Jackson, where gifts were wrapped for LifeSet youth in Nashville.
Thank you to all of this year's Holiday Heroes – groups and individuals – and to our corporate and organizational partners for taking time to help shop and wrap gifts to bring joy to those in our programs!
To learn more about ways to give, including our annual Holiday Heroes and Backpack Heroes campaigns, visit https://youthvillages.org/get-involved/.