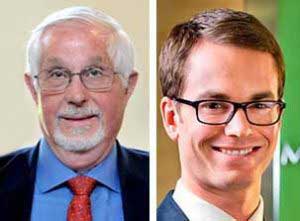 Honoring Two National Board Members
We are honored to recognize two members of Youth Villages' national board of directors, retiring from national board governance this past June: Pat Ritz and Nick Ehlen.
Pat Ritz first served on the Christie School board of directors between 1982 – 1990, serving as board president 1987 – 1989. During the 90s and early 2000s, Pat acted as advisor on Christie real estate matters, including the purchase of the current Administration Building from the Sisters of the Holy Name of Jesus & Mary. In 2011, Pat helped then executive director Lynne Saxton merge ChristieCare with Youth Villages to bring intensive, in-home therapy (Intercept) that prevents the separation of a child from their family. In 2016, Youth Villages Oregon presented Pat and his wife, Trudy, with the inaugural Ritz Family Award for their outstanding commitment to Oregon's children and families. Because of Pat and Trudy Ritz, and those like them who are committed to serving their community and its future, Youth Villages Oregon has been able to expand services to Oregon's children, families, and young people who need it most.
Nick Ehlen joined the ChristieCare board of directors thirteen years ago, in June of 2007. Nick served as chair of the ChristieCare Board of Directors at a critical time during the merge with Youth Villages. He extended his service representing Oregon on the national Youth Villages Board of Directors for the next nine years. Nick is a Trustee of the James R. Kuse Family Foundation and Board Member for Doernbecher Children's Hospital Foundation. He has also served Portland Parks Foundation board, Rosemary Anderson High School advisory council, and past board member of Oregon Ballet Theatre. Nick is a Portland native and was named to the Portland Business Journal's influential list of business executives, "Forty Under 40," in 2011.