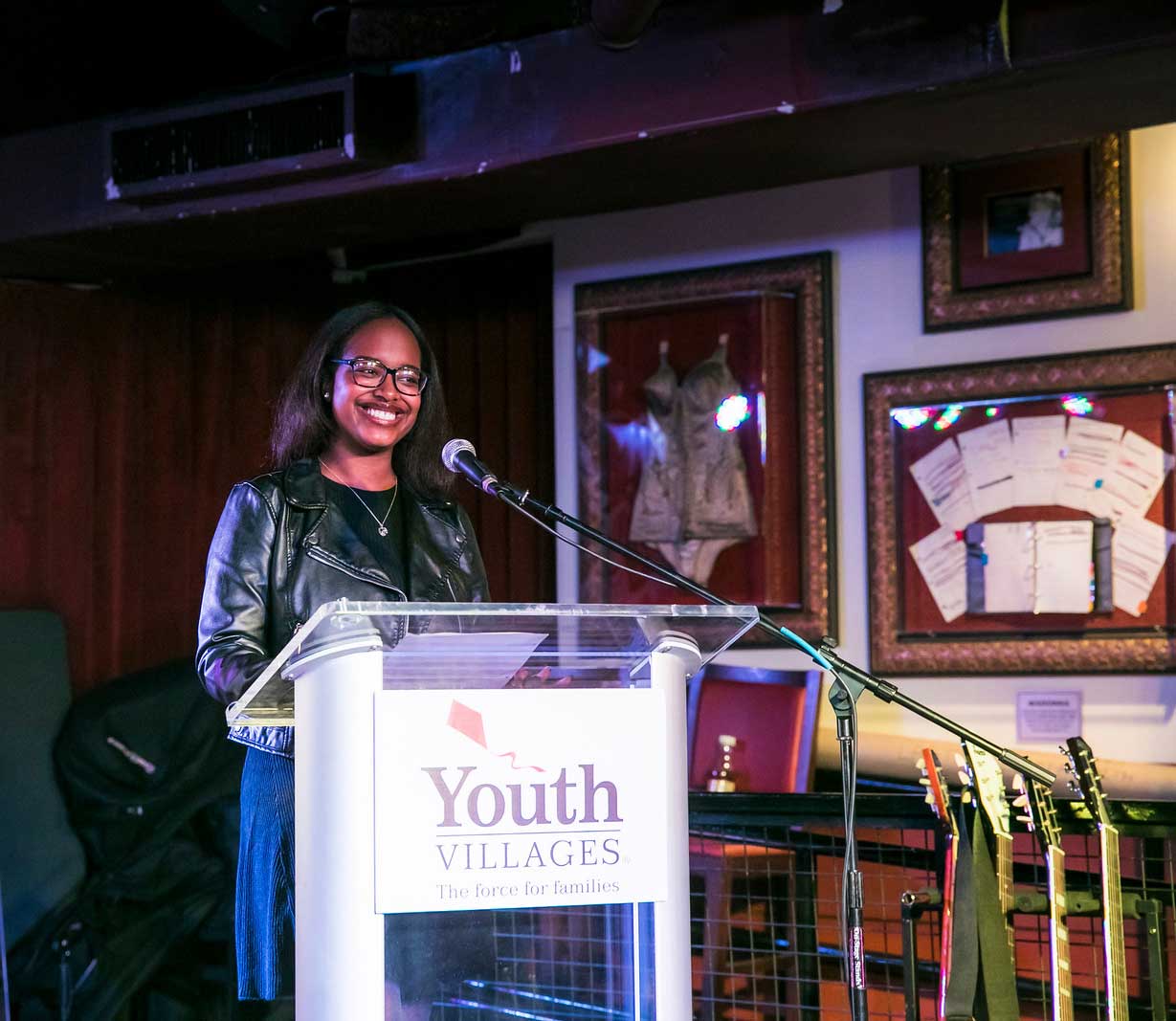 LifeSet™ youth speaks at inaugural Rockin' for Janie event
Making the transition into adulthood is hard for anyone. But for those who turn 18 in foster care, it can be a particularly challenging time of life. Twenty-year-old Stephanie joined the Youth Villages LifeSet program in Massachusetts earlier this year. Having recently turned 18 while in foster care, Stephanie struggled with finding a place to live, managing finances and maintaining stability in her life. She spoke about her experience with Youth Villages at Rockin' for Janie, an inaugural fundraising event in partnership with Steven Tyler's Janie's Fund on Oct. 25, 2019.
"I am forever thankful for supporters like you and for the LifeSet program for helping me move closer to meeting my goals," Stephanie said during the event.
As a child, Stephanie was moved from house to house, spending the majority of her childhood in and out of foster care. When she turned 18, Stephanie turned to friends who weren't the best influences and encouraged her to use destructive ways of coping, including substance abuse. After her social worker recommended LifeSet, Stephanie knew she wanted to change her life for the better.
"She [Stephanie's social worker] recommended that we pursue the LifeSet program because she felt it would be a good fit for me and give me extra support," explained Stephanie. "I needed help to get my life on track."
Through LifeSet, Stephanie has been able to break the cycles of instability that prevailed in her youth. Together with her LifeSet specialist, she has been able to hold her job for over a year. She is also enrolled in and taking classes at a local community college. And she recently earned her driver's permit. Her LifeSet specialist has been helping Stephanie find stable housing and set a budget.
"One of the most important ways LifeSet has helped is by encouraging me to reconnect with my former foster family," Stephanie said. "For that I'm forever grateful. I greatly appreciate my foster mom and sister for giving me the stability I needed in my life to help me pursue my other goals."
Rockin' for Janie raised over $200,000 to support young women aging out of the foster care system. More than 300 attendees celebrated 'A Night of Hope and Healing,' including Massachusetts Congressman Joe Kennedy III.