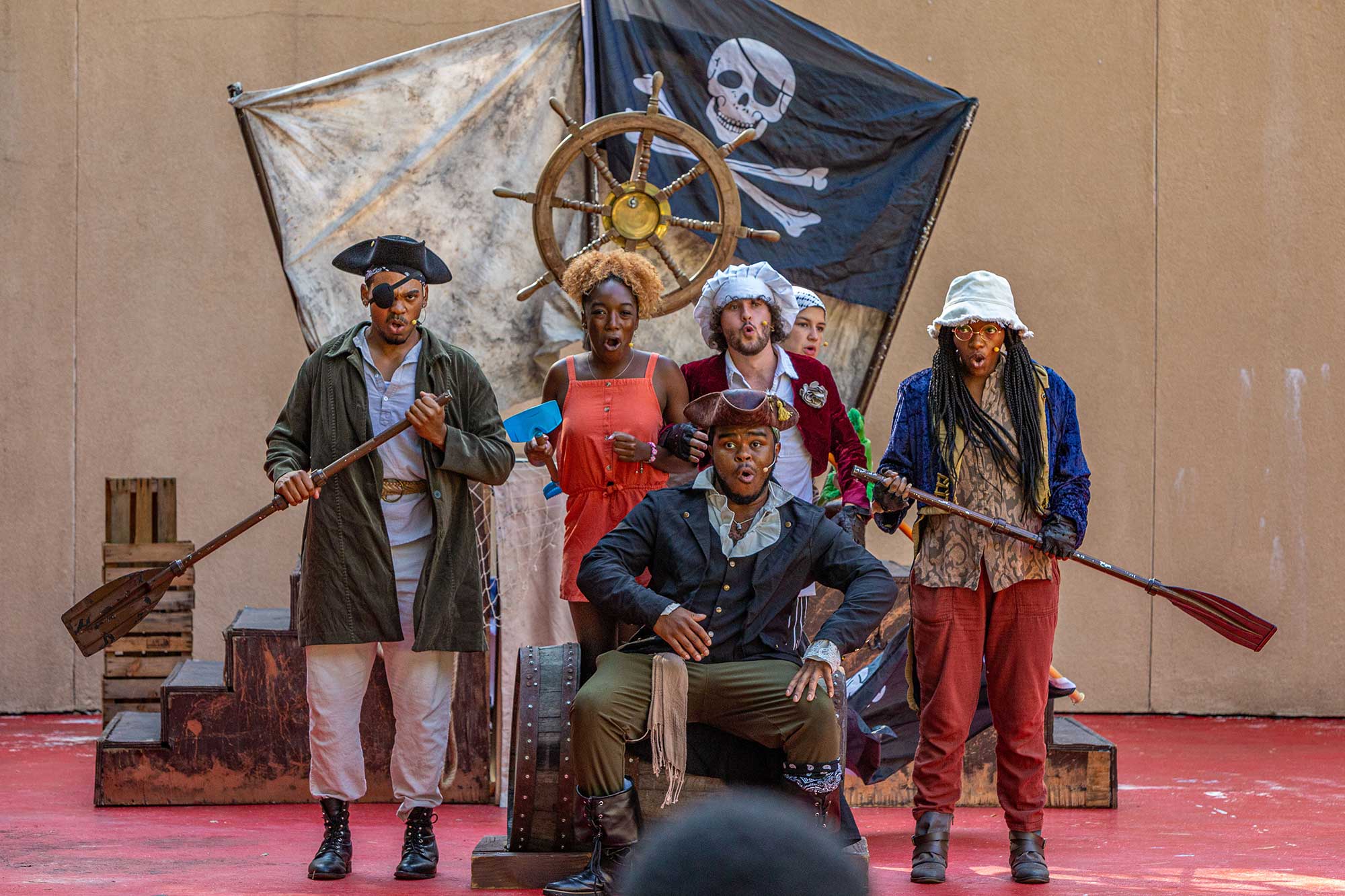 Local theater group brings performance to residential campus, looks to begin partnership
The Youth Villages Inner Harbour campus encountered a pirate "invasion" in early August. But it was a friendly one.
Atlanta's Destination Theatre brought its summer production, How I Became a Pirate, to Inner Harbour to entertain and educate the youth on campus. Cory Phelps, Destination Theatre's artistic director, provided a Q&A and discussed the performance, his new theater venture, and the developing partnership between Inner Harbour and Destination Theatre.
How did the performance go?
The show we did for Youth Villages (Inner Harbour) is my favorite show we did all summer. The kids were quiet throughout the performance, and as performers, we wonder if we are getting through, is it working. They weren't clapping or laughing, but they were so attentive, so focused. They were listening to the story, and occasionally, we'd catch a laugh or two. Then, at the end, the kids were on their feet with their arms in the air cheering for the pirates, which was so cool.
After the show, you talked with the kids. What did you tell them?
At the end of most shows, we'll do a Q&A with the students. I directed the show, and my fiancé directed the music and choreography. We step out from behind the scenes and tell them about what it takes to put a show together—everything from where the script came from to building the sets to the rehearsals to final performance. We are a touring company, and we've been all over the country this summer: Florida, Georgia, Michigan, North Carolina and Indiana. That's a concept we teach the kids too. We pack up our sets and equipment in a truck and trailer, and we go and teach other kids about this play.
What were the kids' responses to your discussion?
It was cool. There were two kids in the older group who mentioned that they were writing their own play, or they were going to direct a play in one of their classes. They were asking what advice we could give them. It's great that they already had an interest. Other kids were asking questions that we love to hear like: 'How did you put this together?' and 'Where did you get your costumes?' That's an opportunity for us to teach them about costume design. 'Who built that set and where did it come from?' That's an opportunity to pull in some of the STE(A)M education as far as the technology and engineering of a set goes.
It's amazing getting to share with the kids that there's more to theater than just the performance on stage.
Exactly. All these theater skills we get to teach—whether it is design or public speaking or confidence building or eye contact—are all life skills. A kid may not go into theater, but they are going to still use these things they learn to propel them further (in life).
Talk about the connection with Inner Harbour and how it came about.
I had worked with Inner Harbour through my previous employer. That company no longer exists, but I was so touched by the experiences I had had there (Inner Harbour). I taught there six to eight times over the past two to three years in one-off workshops, or they would come and see a show. We always talked about building something bigger. When the company I previously worked for shut down, the partnership was severed.
When Destination Theatre came about, Youth Villages was one of the first contacts I reached out to because it fits our mission of bringing the arts to communities that otherwise would not have them. Youth Villages fits that perfectly. Then I reached out to Kimmy (Yon) and told her I created my own theater company, and she said, 'Let's talk.' One thing led to another, and we performed a show in early August.
You mentioned how Youth Villages fits within Destination Theatre's mission. What is the company's mission?
Destination Theatre is committed to bringing excellent and imaginative touring productions to folks of all ages. We aim to bring theater and arts education experiences to communities that might not have them otherwise. At Youth Villages, a lot of the kids are coming from tough situations and coming from communities that might not have an arts or cultural programming. We want to come in and be that facilitator for them. We believe that the value of arts education is so far beyond the drawing one gets to do, or the performance one gets to do. Again, it goes back to life skills.
When we were putting together How I Became a Pirate and reaching out to Youth Villages, this was a perfect set-up. Think about where we are in our world now. Even as an adult, I need some joy. And this show is such a 'joy-bringer.' If I'm an adult and I need some joy, I can't imagine what these kids—having already gone through so much in their lives and having to go through what the world is dealing with now. They need joy more than anybody. It was so cool to see that one kid pop a smile. Also, a couple of kids brought their books, How I Became a Pirate, to the show. One raised his hand and asked if we would sign his book. At the end, all the actors came up to him and gave him autographs.
What is the vision of the partnership between Destination Theatre and Youth Villages Inner Harbour?
To start, it must be consistent. During the semester, we are planning to have workshops that will build upon each other, so the kids get a full-fledged theater experience instead of just a one-off thing here and there. We are also thinking about what it would be like for Destination Theatre to come in, develop a script with some of the kids and have them perform it over the course of a couple of weeks. We are talking about possible summer camp opportunities and what that looks like when school ends. We come in and put on a show or teach them musical theater, where they are getting acting and dancing lessons. Those are some things we are looking to start with, and we're hoping we can become the theater education arm of Youth Villages.
When is this partnership kicking off?
We are planning to start this fall semester. We're going to have a few workshops in the fall, and then we'll also vision cast for the spring.
Do you think there is a lot of interest in theater from the kids there on campus?
I told the people at Youth Villages before… 'I bring the drama; you bring the therapy' to this program. When I see the kids, you can see what weighs them down. When we teach them that they have control of their voice like an actor does or when an actor has control of their body when playing a character, the weight falls off them because they no longer think about the problems they've gone through. In that moment, they are playing. When you can distance yourself by playing a character, you are able to work through some stuff. That's what we set out to do. Let's show up and play, and through that play, you are learning some things. You may not know you are learning at that moment. Right now, it is just a game, and later we will ask, 'why did you play that game?' 'How does that relate to theatre?' 'How does that make you feel when you were standing on stage?'
Is the eventual goal of the workshops for them to put on their own productions on campus?
Yes. We want them to have a full-circle experience where they get to see theater, be taught about theater, and then get to do theater. They get to take what they learned in the classroom and put it on stage.
Anything else you want to add?
Personally, Youth Villages has such a special place in my heart. The work Youth Villages does and the people who work there have a heart posture that is so pure. Destination Theatre only wants to enhance and facilitate that same heart posture. Sure, we want to build programming and have a slew of educational curriculum and guides we can use to come in and teach. That's all great. However, at the end of the day, we want to affect change in these kids. That's the heart of it all.
How can we affect change in these kids? How can we teach in the moment, and that moment helps carry them through the next year? It's the one moment they remember from the place they were as a kid: "I remember that workshop was so cool, and it taught me x, y, z when I was in a job interview."
We recognize that every kid is not going to be an actor. We also know not every kid likes math. But we want to help each kid find their strengths that are going to best suit them and their future. Theater is a wonderful way to do that.