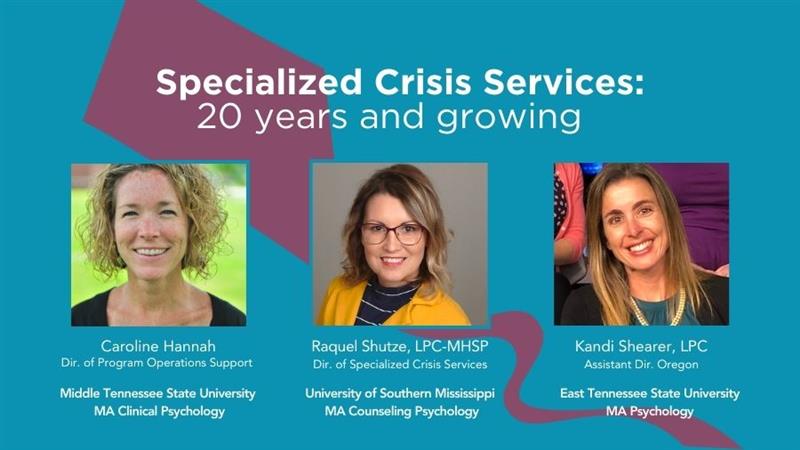 Specialized Crisis Services: 20 years and growing
In the summer of 2002, Youth Villages launched an innovative approach in crisis intervention care for youth.
Managing Director for Program Operations Support Caroline Hannah was tapped by Chief Executive Office Patrick Lawler to lead the effort.
The Tennessee Department of Mental Health had approached Youth Villages with the idea of "unbundling" adult and youth treatment from the Mobile Crisis Response Teams model developed in the early 1990s, Hannah recalls.
"Their needs were and are both very different, so it was only natural as the crisis response teams model evolved that more specialized focus on youth would occur," Hannah said.
One of the biggest changes was addressing a mental health crisis wherever it was occurring to divert out-of-home placements and prevent unnecessary and costly hospitalizations when possible.
"We once assessed a kid at Ruby Tuesday's," she remembers.
Youth Villages' success in child welfare programming, through its LifeSet and Intercept programs, made it a strong contender for the new contract for services the state proposed. Despite that experience, setting up the program was not easy, Hannah said.
"We had seven weeks to hire and develop the program," she said. "We had a concept. We had no idea how to operationalize."
But getting it launched, they did. And Hannah served as director from 2002 until 2012 before moving on to other major Youth Villages projects.
In 2004, its first full fiscal year, the newly launched program handled almost 9,000 calls. And the pace has not slowed.
In 2023, the program treated more than 9,000 children, adolescents, and young adults (ages 0 – 17) face-to-face from a total call volume of 17,623.
And with a staff of more than 120, Youth Villages Specialized Crisis Services now covers 75% of the state of Tennessee, said Program Director Raquel Shutze.
As the program has matured and Youth Villages' reputation has grown, Specialized Crisis Services has begun to tackle broad, systemic issues, bringing the expertise of its professional staff to bear on some of the most challenging mental health issues facing this young demographic.
The trend of mass violence threats made by youth is one of those, Shutze said.
"Specialized Crisis Services is fielding one to two calls related to threats of violence a day during the school year," she said.
Work in this area has led to collaboration with the Federal Bureau of Investigations and Tennessee Homeland Security on threat assessment and management teams and is yielding notable results.
We are a leading force in Tennessee on coming up with protocols to address very serious mental health issues.
I'm really proud of the work we do to save lives in Tennessee."
As she reflects on what she helped start 20 years ago, Hannah is amazed and proud she helped launch what has become a critical service for young people and their families.
"I'm glad we stuck it out," she said. "Keeping kids home when they do not need to be in a psychiatric hospital is huge. That's no place you want your child to be."