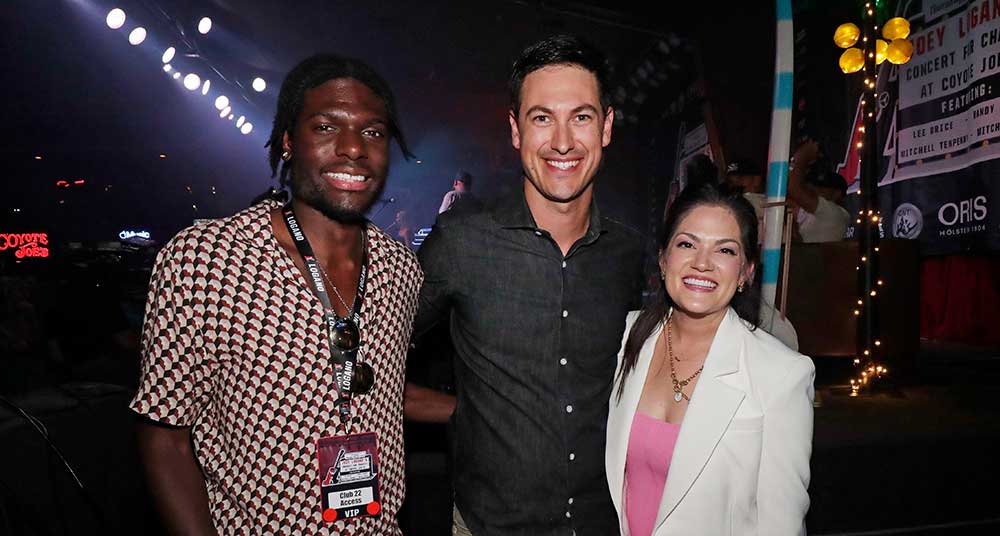 2x NASCAR Champion (center) alongside LifeSet youth Ares Epps (left), and Brittany Logano (right)
Youth Villages awarded generous monetary gift from Joey Logano Foundation
For Immediate Release
Contact: Craig Cannon, PR Coordinator
Craig.Cannon@YouthVillages.org | 980-312-2957
CHARLOTTE, N.C. (September 19, 2023) – Youth Villages today announced it is the recipient of a large donation from the Joey Logano Foundation to support young adults who age out of foster care and are now pursuing higher education.
The Joey Logano Foundation is a long-standing supporter of Youth Villages, awarding the organization nearly $750,000 since 2016 to support its programs in North Carolina. This latest donation will support and help sustain the LifeSet Scholars program, which provides monthly stipends, technology devices, school supplies and other educational resources for more than 40 young adults participating in the LifeSet program in North Carolina.
"The Joey Logano Foundation's mission is to provide second chances, especially to those in and aging out of the foster care system, so as a longtime supporter of Youth Villages, we believe in the work they do through the LifeSet program," said Joey Logano, founding chairman of the Joey Logano Foundation and two-time NASCAR Cup Series Champion. "It is incredible to hear the stories of where these youth started, some in such a dark place of mistreatment and void of love, to now, as healthy, happy, educated young adults passionate about a college path and their future. We look forward to seeing the growth in a new group of LifeSet Scholars this year."
LifeSet is one of the nation's first — and now one of the largest — evidence-informed programs helping young people who age out of foster care. Specialists work with young people who experience foster care to help them build healthy relationships, obtain safe housing, education and employment. The funds from the Joey Logano Foundation will help ensure that each scholar in the program has financial support to continue their studies.
"We are deeply grateful for the continued support of the Joey Logano Foundation," said Erica Ellis, development director for Youth Villages North Carolina. "Their financial support of our LifeSet and Scholars programs ensures that we are creating a more level playing field for these young adults who have endured so much."
Nationally, only 3% of youth who age out of the foster care system graduate from a four-year university, but 48% of LifeSet Scholars graduate from higher education institutions. With the renewal of this public-private partnership, the state of North Carolina will provide a 4:1 match,
where every $1 raised privately activates $4 in public funding. This will continue to help Youth Villages sustain the operations and expansion of the LifeSet program, which includes Scholars.
About Joey Logano Foundation
The Joey Logano Foundation invests in organizations offering second chances to children and young adults during times of crisis and works to inspire others to live a life of generosity. Since 2013, the Joey Logano Foundation has invested over $4,500,000 in various organizations across the country offering first and second chances to children and young adults during difficult times in their lives, especially those in the foster care system. Together we have impacted 250,000+ children and young adults. To learn more, visit www.joeyloganofoundation.com
About Youth Villages
Youth Villages is a national leader in children's mental and behavioral health committed to building strong families, delivering effective services, and significantly improving outcomes for children, families and young people involved in child welfare and juvenile justice systems across the country. Founded in 1986, the organization's 4,000 employees help more than 39,000 children annually in 25 states and the District of Columbia. Youth Villages has been recognized by the Harvard Business School and U.S. News & World Report and was identified by The
White House as one of the nation's most promising results-oriented nonprofit organizations. Learn more at www.youthvillages.org.
###