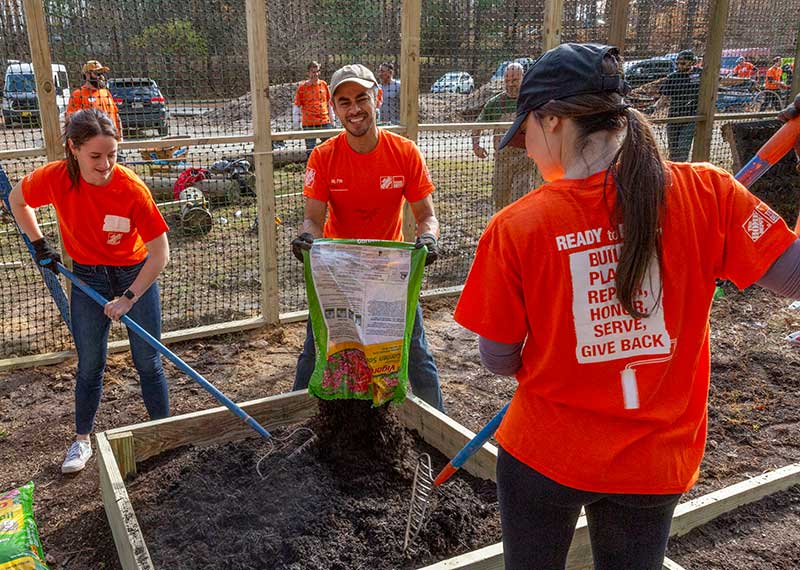 PARTNER WITH YOUTH VILLAGES
Offering volunteer opportunities for your employees not only improves your community, it can also help to keep your top performers engaged. Make your company a force for families through a partnership with Youth Villages.
Our volunteer projects designed for corporate groups are convenient, fun and allow for on-site team building. They also provide our Youth Villages children with much-needed, positive adult influences.
Contact us to develop a volunteer experience for your corporate group. Past experiences have included creating a career fair, hosting a birthday party, playing sports and having a cookout on our campuses.
Sponsoring a Youth Villages fundraising event is another way for corporate groups to give back in a big way.
Thank you to the many companies & organizations that support Youth Villages!
247 Sports
4 Wall Entertainment
A2H
ACH Food Companies
Acuff & Associates
Advanced Financial
Advanced Network Solutions
Aegis Labs
Ajax Turner
Akzo Nobel
Altria
AMI Metals, Inc.
Andrews Cadillac
Aon
Asurion
AutoZone
Banana Republic Factory Store Outlet (GAP Inc.)
BancorpSouth
Bank of Bartlett
Bartlett Area Chamber of Commerce
Bernard Health
Best Buy
Bethesda Health Care
Blue Sky Cottage
Boyle Investment Company
Brasfield & Gorrie, LLC
Bridgestone Americas Inc.
Bullseye Compliance
Burks Beverages
C.H. Robinson Worldwide
C.R. Gibson
Capitol Consultants
CareHere, LLC
Cargill
Cassidy Fine Foods
Champs Sports
Change Halthcare
CiCi's Pizza
Clark & Clark
Clear Mountain Natural Spring Water
Clearview Financial Group
CMT
Coca Cola Bottling Company Consolidated
Comtrak Logistics
Cornerstone Systems
CPI Card Group
Cross Point Church
CrossFit Forte
Crye-Leike, Inc. REALTORS
Cube Smart
Cumberland Consulting
Cummins Mid-South
DataBlue
Delek
Dell Inc.
Delta Dental
Dollar General
Education Realty Trust
EFT Source, Inc.
Exchange Club of Donelson/Hermitage
Executive Women International
Farmers Insurance
FedEx Global Trade Services
FedEx Retail Marketing
First Tennessee Bank
First Tennessee Foundation
FlyteVue
Genesco
Geny Insurance Agency, Inc.
GEODIS
Germane Solutions
Gossett Motors
Grace Barlow Dent, LPC Counseling
Greenways for Nashville
Hampton Inn and Suites
HCA
Healthways
Hilton Hotels Corporation
Hines
Hospice Compassus
Hospital Corporation of America (HCA)
Hunt's Brothers Pizza
Informa Investment Scorecard
Ingersol Rand
Ingram Entertainment
InStream
IREM
ISTS
Jackson National Life Insurance Company
Jaco Bryant Printers
JetBlue
Jim 'N Nick's
Jimmy Dean
Junior League of Nashville
Katcher, Vaughan & Bailey PR
Kele
Keller Williams Realty
Kelley Productions
Konica Minolta Business Solutions
KPMG
Kraft CPAs
Kroger Corporation
Kuehne + Nagel Inc.
LBMC
Lens Crafters
Lipman Brothers
Lipscomb & Pitts, LLC
Loeb Properties, Inc.
LP Environmental
Lyft
MadTree Brewing Company
Magna Bank
Malham Leverage Group
Marshall Family Food
Memphis Area Association of REALTORS
Memphis Grizzlies
Memphis Redbirds
Memphis Restaurant Association
Memphis Runner's Track Club
Mercedes-Benz of Memphis
Mid America Apartment Communities
Minuteman Press
Murphy, DeZonia, and Webb Attorneys
Music City Boards
Nashville Predators
Nashville Sounds
National Federation of Independent Businesses
naviHealth
NFIB
Nissan
Northwest Mutual
Oak Hall
On The Border
Optum
Paragon Rehabilitation Inc.
Peidmont Natural Gas
Performance Foodservice
Pfizer NASS
Premiere Transportation
Providential Fabricators
PsychHub
R.C. Mathews
Re:Trans
redplus Innovations
RevSpring
Riley Warnock & Jacobson
Ring Container Technologies
RJ Young
Rochford Realty and Construction
Rogers Group
Sarah Cannon Cancer Research Center
Saturn / United Auto Workers Local 1853
Signet
Silas Hill Horse Farm
Silicon Ranch Corp.
Simplus
Smith Imports
South Point Risk
Southern Security Federal Credit Union
St. Francis Hospital – Bartlett
Starbucks Coffee Company
State Farm – Tony McGehee
State Farm Insurance – Jason Egly
Stevie B's Pizza
Sword & Shield Enterprise Security
Sysco Memphis
Target – Nashville
TechnologyAdvice
TEKsystems
Tennessee Dental Assistants
Tennessee Education Association
Tennessee Foreign Language Institute
Tennessee Soccer Club
The Compassionate Friends
The Grove
The Learning Lab
The Little Clinic
The Marketing Arm
ThirdHome
Thomas & Company
Tigrett & Pennington Insurance
Tivity Health
Tobacco Road Coffee & Smoke Shop
Traveler's Insurance
Trinisys
Triumph Bank
Turner Universal
U.S. Navy
UBS Financial Services
UBS Paine Webber
UL Workplace Health and Safety
UnitedHealthCare
UNITS
Unity Hair Salon
Unity of Nashville
UNUM
UPS
US Bank
US Storage Centers
Vanderbilt Legends Club
Vanderbilt University – The Owen Graduate School of Management
Vineyard Vines
Vision
Volunteer Corporate Credit Union
Volunteer Memphis/Hands on Memphis
Wal-Mart
Walker – J – Walker
Wellspring Management
Wood Personnel
Wyatt, Tarrant & Combs, LLP
Xero