Jessica Foster named chief strategy officer at Youth Villages
WASHINGTON, D.C. (Dec. 30, 2019) – Jessica Foster has been named chief strategy officer for Youth Villages, a national children's mental and behavioral health nonprofit organization that helps tens of thousands of children and families annually.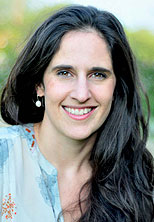 Foster will focus on identifying and piloting new innovations to bring positive change to child welfare systems; developing national and state strategic plans; implementing business development and marketing strategies for the growth of programs and service offerings; and leading federal and state government relations and policy advocacy.
"As we expand our organization, we want to focus more on how to grow and expand services to impact the overall child welfare system in this country," said Patrick Lawler, CEO of Youth Villages. "Jessica is the ideal person to lead this effort. She, as much as anyone, has helped drive our tremendous growth in the last few years."
Foster joined Youth Villages in 2011 and served in several strategy, business development and policy roles before becoming executive director of strategic partnerships in 2016. In that position, she was charged with launching public and private partnerships as part of Youth Villages' drive to make its LifeSet program model or comparable services available to each of the 20,000 young people who turn 18 in foster care annually in the United States over the next decade.
"It's a tremendous honor to be part of the leadership team and to help influence such critical work as strengthening families and preparing youth for adulthood," Foster said.
Prior to Youth Villages, Foster was a strategy consultant at the Boston Consulting Group and formerly at the Monitor Group. She also served as a legislative aide to U.S. Senator Arlen Specter, as a key advisor on foster care, adoption, welfare, economic development, public housing and nonprofit issues. Foster holds an MBA in marketing from The Wharton School and a bachelor's degree in public policy from Brown University.
About Youth Villages
Youth Villages is a national leader in children's mental and behavioral health committed to building strong families, delivering effective services and significantly improving outcomes for child welfare systems across the country. Founded in 1986, the organization's 3,000-plus employees help more than 30,000 children annually in 20 states across the U.S. The organization has been recognized by the Harvard Business School and U.S. News & World Report and was identified by The White House as one of the nation's most promising results-oriented nonprofit organizations. Learn more at www.youthvillages.org.